03.08.21
An Update on Providing Relief to Combat COVID-19 and Making Government Work Better
Hello Folks –
I hope this finds you safe and healthy. We've seen some tremendous progress in the past few weeks as the federal government has worked to ramp-up COVID-19 vaccination efforts – with the United States now averaging two million vaccinations per day. However, we can't let our guard down now; the CDC continues to recommend that in addition to social distancing and washing your hands frequently, that folks wear masks in public settings and anywhere they might be around other people. I have to admit – I was thrilled to see a new Tacoma-Pierce County Health Department ad that really speaks to me!
As part of the effort to crush this virus, I've been pushing to get our communities the resources they need to help distribute vaccines, provide vital support to families and local employers, and get our economy off the mat. I'm happy to share that here's been some big progress on that front over these past few weeks. Let's get into the details!
Delivering Relief for Folks in Our Region
We know that despite the passage of a coronavirus relief package in December, economists agree that additional assistance is needed – both for struggling families and for the American economy. In fact, Treasury Secretary Janet Yellen stated in her confirmation hearing, "Economists don't always agree, but I think there is a consensus now. Without further action, we risk a longer, more painful recession now – and long-term scarring of the economy later. … Right now, with interest rates at historic lows, the smartest thing we can do is act big. In the long run, the benefits will far outweigh the costs." And Mark Zandi, Chief Economist of Moody's Analytics, said, "It's better to err on the side of too much rather than too little. Interest rates are at zero, inflation is low, unemployment is high. You don't need a textbook to know this is when you push on the fiscal accelerator."
That's why, late last month, I voted to support the American Rescue Plan – President Biden's emergency legislative package to fund vaccinations, provide immediate and direct relief to families bearing the weight of the COVID-19 crisis, help get kids back in school, and support affected communities. This weekend, the Senate moved us significantly closer to getting that bill signed into law by passing a slightly updated version that I plan to support this week when it comes back to House for final approval.
To continue progress on our national COVID-19 public health response, this plan devotes substantial funding to improve vaccine production, administration, and distribution — including a targeted effort to distribute vaccines to underserved populations through local and mobile vaccination sites. Additionally, the bill also includes funding to support testing so that we can get the spread of this virus under control and ease the strain that is acutely felt in our health care system. The bill would also expand the emergency paid leave program to millions more Americans. These steps all make sense to me as a means of beating back this virus.
Importantly, President Biden's proposal would also expand critical pandemic assistance programs, including:
A $300 per week pandemic unemployment insurance supplement;
An additional round of direct payments for qualifying adults and children;
Robust funding for emergency rental, energy, and water assistance to help families that are struggling to make ends meet;
An increase in Supplemental Nutrition Assistance Program (SNAP) benefits; and,
Additional resources for small businesses and hard-hit industries, including direct grants and loan guarantees to keep small businesses afloat.
I believe that all of these initiatives are important as we work to ensure that people who are hurting can pay their bills, feed their families, and maintain their housing while we get more vaccines in people's arms. I look forward to voting for the American Rescue Plan for a second time this week and getting it to President Biden to be signed into law!
Making Our Democracy Work Better
For too long, folks have been frustrated with the performance of the government – and rightfully so. There's been too much money, too many special interests, and too little accountability. But last week, Congress took an important step forward to help ensure that government works better for the American people by passing the For the People Act (H.R.1).
The For the People Act, which I proudly co-sponsored, is a sweeping reform bill aimed at strengthening the voice of the American people in their democracy by making it easier for legally eligible voters to vote, by ending the dominance of big money in the political process, and updating ethics rules to ensure public officials work for the public interest. I'm also pleased that this package includes two bipartisan bills that I introduced aimed at these goals.
First, the bill is focused on clean and fair elections. The bill will improve access to voting for everyday citizens by enacting national automatic voter registration, making Election Day a national holiday, and promoting early and online voter registration. In fact, the bill encourages states to adopt many of the practices related to voter access that the State of Washington has already adopted and that have been supported by our Republican Secretary of State. In addition, the bill has multiple sections dedicated to election integrity, including enhancing federal support for voting system integrity—particularly with paper ballots—and by increasing oversight over election system vendors to ensure American elections are decided by American voters – free from the interference of outside or foreign entities. The bill will also end partisan gerrymandering so voters can choose their elected officials rather than elected officials choosing their voters. Further, the bill would protect voting rights by addressing the problems created by a Supreme Court decision that invalidated parts of the Voting Rights Act.
Second, the bill is focused on ending the dominance of big money in our politics. This legislation reforms our campaign finance system to empower small donors rather than "dark-money" expenditures. Specifically, the bill establishes a system to match the contributions of small donors, with that system funded by law-breakers not taxpayers (specifically, it is funded through fines and penalties paid by those who violate the law). The bill includes the Honest Ads Act, a bipartisan bill that I introduced, which would require digital advertisements on the largest online platforms to meet the same disclaimer and reporting obligations that are required of other platforms that sell political advertisements, like television and radio.
In addition, the For the People Act would make positive reforms within the Federal Election Commission (FEC) to ensure that it is empowered to crack down on candidates that try to cheat the system. In recent years, the FEC has been terribly dysfunctional, bogged down in gridlock and deadlocks. The bipartisan Restoring Integrity to American Elections Act that I authored is included in H.R. 1 and will ensure that the laws on the books are both enforced and upheld.
Finally, the bill includes reforms to ensure that public servants are working for the public interest. The bill would hold public officials accountable to stronger ethics standards by expanding upon conflict of interest law. In my view, those who hold the public's trust should be held to a higher standard. With that in mind, I'm pleased to see that this legislation would require disclosure of tax returns by all candidates for President. The bill would also overhaul the Office of Government Ethics, prohibit Members of Congress from serving on for-profit boards, and end taxpayer-financed legal settlements for those who hold public office.
These are the types of commonsense steps that the American people should expect from their elected leaders. The vibrancy of our democracy depends on upholding our laws and the American people's confidence in our government and elections. In our democratic republic, "We the People" should have the primary say in our government – not deep pockets or special interests.
With that in mind, I was proud to vote for this legislation, and I'm going to keep pushing for the passage of this bill into law – AND for reforms that strengthen the integrity of our elections and keep our government accountable.
Pushing for Equality for All Americans
Every American deserves to have access to the same basic civil rights, regardless of who they are or who they love. I'm proud to represent a state that provides protections to ensure that LGBTQ Washingtonians don't face discrimination, but it's important that the federal government extend anti-discrimination protections to LGBTQ Americans in every corner of the nation.
Here's why: in the United States, millions of LGBTQ Americans can still be discriminated against depending on the state they live in. In 27 states, a person is at risk of being denied housing because of their sexual orientation or gender identity. LGBTQ people are also at risk of being denied access to education in 31 states. The existing patchwork of legal protections for LGBTQ+ people leaves millions of Americans subject to uncertainty and potential discrimination.
That's why I'm proud that the House just passed a bill I co-sponsored—the Equality Act—to remedy these disparities by amending existing federal civil rights laws to explicitly prohibit discrimination on the basis of sexual orientation and gender identity in employment, education, housing, credit, jury service, public accommodations, and federal funding.
Fairness and equality are core American values, and our LGBTQ friends and neighbors should be guaranteed the same basic civil rights and opportunities as anyone else. As President John F. Kennedy once said, "In giving rights to others which belong to them, we give rights to ourselves and to our country." I'll keep pushing to get this legislation signed into law.
Working for You
Supporting our Small Businesses
Small Business Development Centers are doing extraordinary work helping small businesses throughout our region. They offer services to help local employers access pandemic assistance, enhance resiliency, combat cyber threats, and build successful businesses. Late last month, I chatted with some of the Washington Small Business Development Center leaders and some great entrepreneurs who have benefited from the help of our SBDCs. To learn more about their resources, just visit https://wsbdc.org.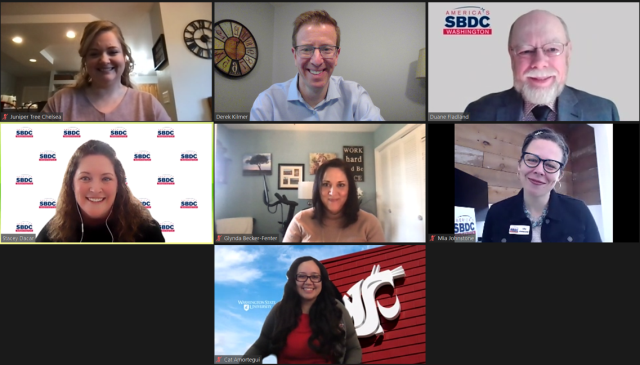 Welcoming Home our Servicemembers
With what has been a historically long deployment – I took a moment to recognize and thank the brave crew of the USS Nimitz as they returned home to Bremerton yesterday. They have continually risen to meet the challenges that this world brings us and I am sincerely grateful on behalf of the people of our community, and on behalf of my own family. We are all safer because of their amazing service.
OK – that's it for now folks. Take care of yourselves – and one another. As always, I'm honored to represent you.
Sincerely,
Derek
---
---
Next Article
Previous Article