10.04.21
An Update on the Progress Being Made to Build Back Better
Hello Folks –
Like many folks, I was glued to the television on Sunday afternoon hoping our Mariners could make it to the playoffs. Unfortunately, they came up just short – but not before Dave Sims sparked a whole lot of joy in our region on Saturday afternoon with a classic "hey now" call as they made the final push! Hopefully, next year, we can get some October baseball here in our region!
It's been a busy few weeks in DC – so let's dive right in.
Working to Help America Build Back Better
In covering the President's plan to Build Back Better, a lot of the news media has focused its attention on process. But I wanted to take a second to focus on what this is about.
It's about jobs. The bipartisan infrastructure bill is about putting people to work now – and laying the foundation for economic growth over the long haul by investing in roads, bridges, transit, water systems, ports, and broadband. It's about recognizing that we can't compete in a 21st century economy with 19th and 20th century infrastructure. The bipartisan infrastructure bill will create good-paying jobs, modernize our nation's infrastructure, and reduce carbon pollution. Those are priorities worth moving forward.
The President's Build Back Better bill (aka "reconciliation") is about helping middle class families. It's about recognizing that middle class families and folks struggling to make ends meet deserve a break. It's about recognizing that, as we look toward a national recovery, we need a "new normal" since the status quo isn't working for the countless families struggling to balance work, childcare, and home obligations while keeping the lights on and providing for their loved ones. It's about helping families that are grappling with the costs of child care or caring for an elder parent, that are struggling to pay for health care and prescription drugs, or that can't afford to pay for college. It's about creating jobs by providing new help to small businesses and by taking action to combat the climate crisis.
Some have debated whether our nation should invest in infrastructure or make transformational investments to reduce costs for working families and enable our nation to build back better. The reality is that we need to do both. Congress can, and should, pass both of these bills and help America build back better. In the next few weeks, there will be a fair amount of negotiation to determine specifics regarding which priorities will be included and for how long. But it's worth recognizing a couple of points.
First, the President has made clear his intent that his proposal would be paid for – not deficit-financed. What's more, under his proposal, no one making under $400,000 annually would see an increase in their taxes. Rather, these investments in American families would be funded by asking the wealthiest (those making over $400,000) and multinational corporations to pay their fair share.
In addition, these investments will help our economy build back better. Recently, the chief economist at Moody's Analytics, Mark Zandi, issued an analysis of the President's plan and found that it would spur economic growth and ease inflation. The report found that the plan would add more than two million jobs by mid-decade, would lower business costs, would improve labor force participation (through investments in child care and expansion of the earned income tax credit), and would lift worker productivity (through workforce development investments). Importantly, the analysis also stated, "Worries that the plan will ignite undesirably high inflation and an overheating economy are overdone. Much of the additional fiscal support being considered is designed to lift the economy's longer-term growth potential and ease inflation pressures." You can read a summary of the findings here.
Please know that as Congress continues to move forward on this, I will continue to push for legislation that meets the moment.
Getting America's Fiscal House in Order
Avoiding a Government Shutdown
A lot of other things happened last week, too. Nobody should be popping a champagne cork simply because Congress passed a stop-gap spending bill, but it was important that a government shutdown was averted.
Some background... the end of September marks the end of the federal government's fiscal year. By that point, Congress needs to pass spending bills for the upcoming fiscal year. As many of the readers of this newsletter know, the House passed the majority of its government funding bills before the summer. However, the Senate didn't really get cooking. Consequently, last week, Congress had to pass a short-term agreement that kept the government open through December.
We know that government shutdowns are dumb – and that they have real consequences back home, particularly if you're one of the almost 70,000 federal workers that live in our area. That's why I oppose shutting the government down. Having said that, it's also why I oppose the persistent kicking of the can with these short-term fixes.
As the Chair of the Select Committee on the Modernization of Congress, I'm pushing for some reforms to the budget and appropriations process so there's less instability and dysfunction. What's more, I'm pushing for Congress to do the responsible thing, and pass real, long-term funding bills in the coming months.
Paying Our Bills
There's also going to be a fair amount of press attention in the next couple of weeks to the debt ceiling (also known as the debt limit). Our nation is a bit unique in that it puts in law how much debt can be incurred by the U.S. Treasury. Why does that matter? Well, it limits the amount the federal government can pay on debt the government has already borrowed. Raising or suspending the debt limit does not authorize new spending but allows the government to pay for previously made commitments.
So why is this in the press right now? Well, it's expected that the Treasury Department will run out of those options to address the debt ceiling by October 18. At that point, if Congress fails to take action, the government would default.
Again – why does that matter? Well, every economist across the political spectrum has acknowledged this would damage the economy and make it more expensive for folks to borrow money to buy a car or home, or to start or grow a small business. Recent analyses suggest that failure to act could cost America's economy as much as six million jobs. In addition, it would also likely delay payments for critical programs like Social Security, Medicare, and veterans' benefits.
In essence, failing to address the debt ceiling is a bit like choosing not to pay the minimum balance on your credit card. You can make that choice – but it definitely has bad consequences for your finances down the road. This clip from The West Wing explains it in a far more entertaining way than I could ever.
That's why I supported legislation that passed the House on September 29, 2021 to suspend the debt limit. Unfortunately, there are some shenanigans occurring in the U.S. Senate that has made the road forward a bit bumpy. Senate Republicans are threatening to filibuster any legislation to address the debt limit. That's despite the fact that Senate Minority Leader Mitch McConnell has previously said "America must never default" and that failing to address it would be "playing Russian roulette with our economy." And it's despite the fact that Congressional Republicans and the last Administration racked up nearly $8 trillion in debt – nearly a quarter of our nation's total debt – in part to give the very wealthiest Americans a tax giveaway. I don't say that in a partisan way - it's just a fact.
So... all that said, I'm hopeful that in the next couple of weeks, sanity will prevail and the two parties can work together to prevent default. The full faith and credit of our nation should never be in question.
Let me add one final note on this. I think America should pay its bills. And I also think Congress should get a handle on our nation's long-term fiscal challenges. I've been pushing for action to put our nation on a path toward better fiscal sustainability and strengthened economic growth.
The reality is that every bipartisan commission, nonpartisan commission, and think-tank that has looked at our nation's debt problem has concluded the same thing – that this problem is too big to solely tax our way out of it, to solely cut our way out of it, or to solely depend on economic growth as a strategy out of it. Rather, we need a comprehensive approach to dealing with our nation's debt. That's going to require Democrats and Republicans to actually work together to solve it. Toward that end, some of the bipartisan recommendations of the Select Committee on the Modernization of Congress focused specifically on trying to fix the broken process. Currently, we have a bad process that – not surprisingly – leads to bad outcomes. I believe that the reforms that our committee laid out could move things in the right direction, and I'm pleased that they were supported by Democrats and Republicans.
Building Relationships with Our International Partners
As co-chair of the Congressional UK Caucus, I was pleased to welcome UK Prime Minister Boris Johnson to the House of Representatives. With other colleagues, we discussed the importance of US-UK transatlantic relationship and the urgency of acting now, together, to combat climate change. We also discussed the importance of strengthening our trade relationship – so we can continue to grow our economy and grow jobs in our region.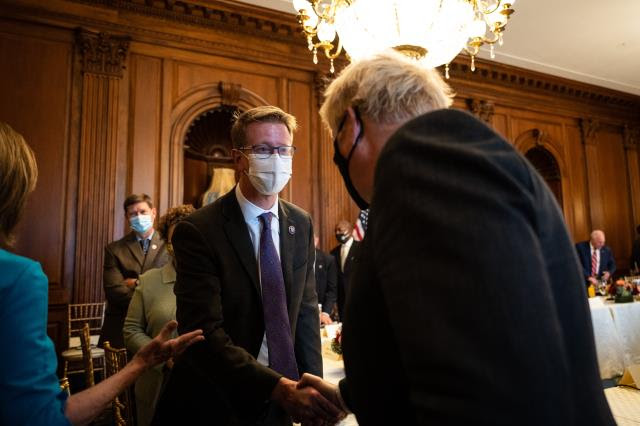 Earlier this month, I also had the opportunity to welcome Ambassador Mikko Hautala of Finland to Tacoma to showcase the work being done to spur innovation, create jobs, and grow our region's tremendous maritime economy. I'm looking forward to continuing to build the friendship and partnership between our nations!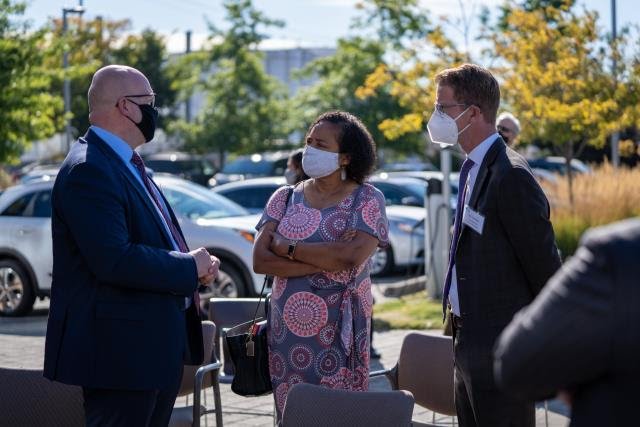 Working for You
Supporting Workers
I support the right of workers to join voices with their peers to bargain for pay, benefits, and safe working conditions. It was great to meet with the Teamsters Local 117, who represent over 17,000 public service and private sector workers across the Pacific Northwest, to talk about how we can continue to work together to ensure folks are treated with dignity in the workplace! Count me on the home team.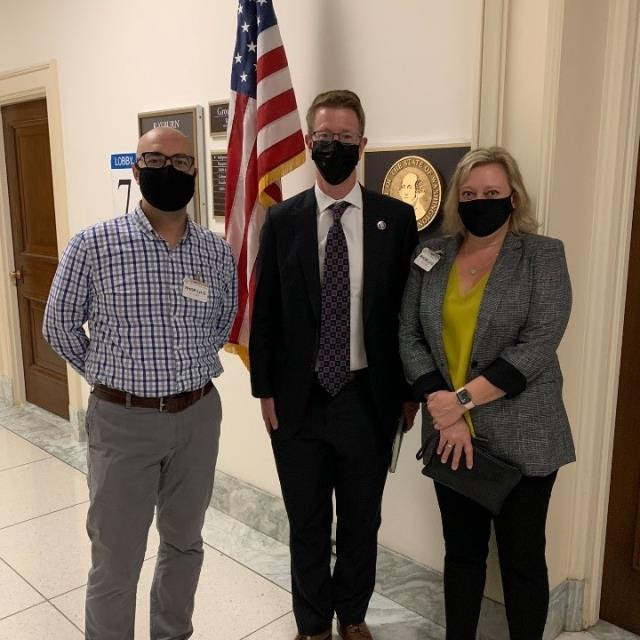 Celebrating Our Diversity
The Asia Pacific Cultural Center's Chuseok Festival was an opportunity to celebrate the fall harvest, honor our Korean friends & neighbors, and to give thanks. I, for one, am thankful for the APCC's amazing leaders—Lua and Patsy! I'm thankful for cultural celebrations that help us appreciate our region's amazing diversity. And I was thankful to be asked to participate in the Charye ritual to honor our ancestors.
Supporting Timber Communities
As someone who grew up in Port Angeles, I know how important healthy, sustainably-managed forests are to the economic well-being of our timber communities. I appreciated the chance to check in with Olympic Forest Supervisor Kelly Lawrence and the team at the Olympic National Forest!
Ok, that's it for now folks. As always, I'm honored to represent you.
Sincerely,
Derek
---
---
Previous Article