September 07, 2021
Celebrating Hard Working Americans & Serving You
Hello, Folks –
In my family – and in many others – today is a big day... the first day of school! My kids were excited (and admittedly a bit anxious) about getting back to school today. And they were a bit bummed about the end of summer vacation.
As for me – I had a very active "August District Work Period" (you'll notice I didn't call it "August Recess"). If you've followed me on Facebook, Twitter, or Instagram, you'll notice that I didn't treat the time Congress wasn't in session as vacation. To me, it's important to be available, accessible, and accountable to the folks I represent.
Let me give you a sense of what I've been up to! As of today, I've done:
A Facebook Live Town Hall (which you can watch here) as well as Q&A sessions with local Rotary Clubs and Chambers of Commerce;
Meetings with the leaders of Puget Sound Naval Shipyard, Naval Base Kitsap, the Naval Hospital, Submarine Group 9, and the VFW;
Roundtables with small business owners, restauranteurs, and child care providers to discuss our economic recovery;
Roundtables with climate advocates, disability advocates, labor leaders, and immigration advocates to discuss the need for action in Congress;
Tours of estuary restoration projects, flooding projects, transportation projects, and culverts to inform my work on the infrastructure bill;
Three meetings to discuss housing affordability and efforts to keep people housed;
Visits to two county fairs;
Three editorial boards with local newspapers;
Visits with seven Native American Tribes (as well as a roundtable with the Tribes in our region along with Secretary of the Interior Deb Haaland);
Meetings with folks at six hospitals in our region;
Visits to three different faith communities;
A Meals on Wheels Delivery;
A bevy of community events including National Night Out on the Hilltop of Tacoma, the Slavonian American Benevolent Society 120th Anniversary, Kitsap Pride, and the Mason EDC Small Business Appreciation Night; and,
26 meetings with constituents, nonprofits, and other organizations who wanted to discuss their priorities.
And that's not even all of it! But I find it immensely valuable to get to hear from you – to hear your concerns, your ideas, and the issues on your mind. It helps me represent you better. Thanks to everyone who took the time to visit with me!
I had the honor of welcoming Captain Patrick Fitzpatrick back to Bremerton as the new commander of Naval Hospital Bremerton and Navy Medicine Readiness and Training Command Bremerton. I'm looking forward to working with him to ensure all of our service members, military families, and our community have access to quality care.
Now, on to the news!
Supporting American Workers
Yesterday, on Labor Day, we celebrated and honored the contributions of millions of American workers. It was a day to celebrate the advances made on behalf of American workers for better pay, better benefits, and safer workplaces—and the work that still needs to be done.
I support the right of workers to join voices with their peers to bargain for pay, benefits, and safe working conditions. As your representative in Congress, I remain committed to supporting and protecting workers' rights. Earlier this year, Congress passed (and I supported) the PRO Act – which will strengthen the National Labor Relations Board to protect workers' rights and enhance organizing rights.
In addition, I'm happy to report that Congress has also passed a number of initiatives so far this year that would help middle-class, working families – including the Paycheck Fairness Act to close the gender wage gap, the Raise the Wage Act to gradually increase the federal minimum wage to $15, the Butch Lewis Act to strengthen pension systems, the Equality Act to extend anti-discrimination protections to LGBTQ Americans, and measures to improve our nation's health care system.
I appreciated checking in with the awesome team at the Pierce County Labor Council!
In addition, I've been working on legislation that will specifically help folks in our region – like the bipartisan Federal Retirement Fairness Act – which can help ensure that federal employees from the Puget Sound Naval Shipyard and beyond have the opportunity to retire on time. Under this bill, federal employees who started their careers as temporary workers (meaning they did not have the ability to make retirement contributions) would be granted the opportunity to make catch-up retirement contributions so that they can retire on time. Without this option, workers have expressed that they face an unfair choice: leave the federal service without full retirement benefits or work longer than expected to obtain full retirement benefits.
I've also led the charge on the Skills Investment Act; bipartisan legislation to create lifelong learning accounts that can help workers develop new skills throughout their careers so they can compete for great jobs and bigger paychecks.
There's still more work to do – including passing President Biden's Build Back Better agenda (which we talked about a bit last newsletter)! Know that I'm going to keep fighting for the people working for us, and for our region's economy.
Serving You
My number one priority is serving you. My team and I have been working harder than ever during these challenging times to be there for you, to get back to you, and to help solve problems with federal agencies. During this unprecedented public health crisis and economic downturn, it's been important to hear your concerns first-hand.
So, I thought I'd share a quick list of some of the highlights so far this year:
Everyone on Team Kilmer is committed to helping folks in our region every way we can. I value opportunities to hear from you directly and to make sure you are treated fairly by our government. So, if you have a concern, or an idea or if you want to know my thoughts on an issue, please don't hesitate to reach out. I want to hear from you. I'm committed to getting back to you, to helping you as best I can, and to making progress for our region.
Helping Our Students Reach New Heights
Nominating outstanding young people to our Service Academies is one of the great honors of my job. Every year, the district I represent sends an incredible crop of candidates to the Navy, Air Force, Merchant Marine, and Army academies. It's been fun for me to see these young people represent our region so well – and to go on to big things! Some are on the path to becoming future military leaders. Others intend to transition into careers in the civilian world where they'll be leaders in the aviation, engineering, health care, and tech industries, to name a few. But all of them have been amazingly impressive!
The deadline for this year's nomination is fast approaching; anyone seeking my nomination this year will need to have their applications turned in by 5pm PT on November 1, 2021. If students need further information, or to begin the process of requesting a nomination, they can visit my website here. If any students have questions, or wish to submit an application, they can contact Rob Richards from my team at Rob.Richards@mail.house.gov.
Working for You
Investing in Indian County
Climate change and rising sea levels are threatening coastal communities across our region – including the homelands of the Hoh Tribe. That's why I'm working to secure federal support for the Tribe as they seek to move to higher ground and keep their people out of harm's way. I appreciated the opportunity to visit with Tribal leadership to learn more about how the project is progressing - and how the federal government can lend a hand and uphold its trust and treaty obligations.
Supporting Folks with Disabilities
I appreciated the opportunity to check in with The Arc of Washington about my ongoing efforts to support children and adults with disabilities and their families. We've got to keep working to expand access to home and community-based services, improve SSI benefits, and work to achieve equity in the social safety net! I'll keep at it.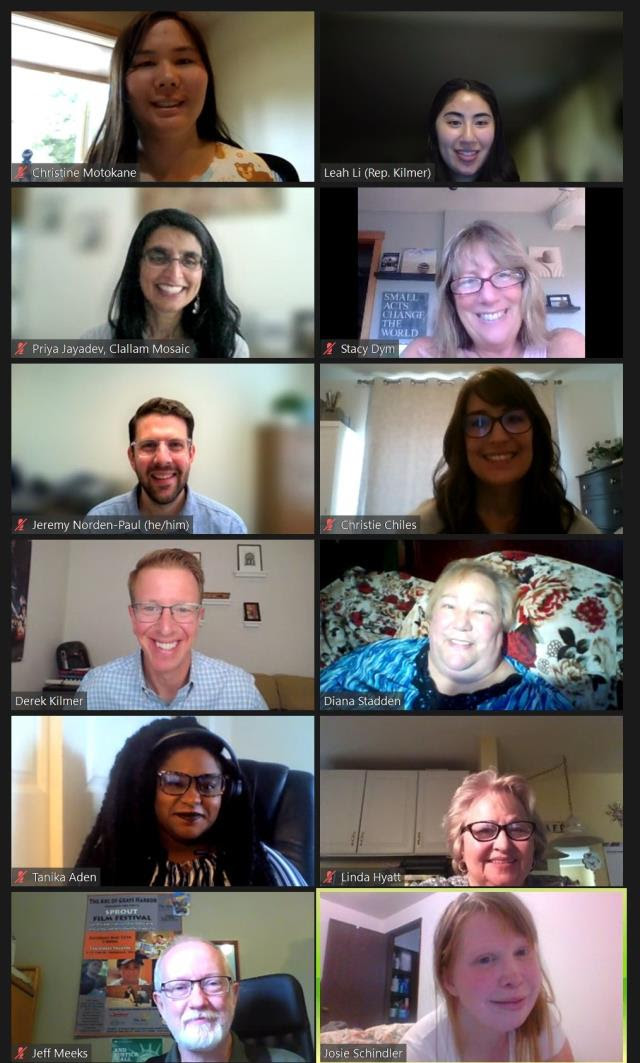 Ensuring We Have the Backs of Working Families
North Kitsap Fishline has done incredible work during this pandemic to provide food, emergency services, and resources to the North Kitsap community. I appreciated the opportunity to stop by and see their operations firsthand — and to thank their amazing team.
Taking Action to Combat COVID-19
It's a critical time for our nation in the fight against the COVID-19 virus. We've each got to do our part to stop the spread. As a reminder, the COVID-19 vaccine is now available to all Washingtonians 12 and older. For more information about the vaccine, visit CovidVaccineWA.org and use the vaccine locator tool to find an appointment near you! And of course, the COVID-19 vaccine is provided at no cost to you.
OK – that's it for now folks. As always, I'm honored to represent you.
Sincerely,
Derek