01.10.22
Here's How the Infrastructure Law Will Help in Our Neck of the Woods
Hello Folks –
I hope this finds you and yours safe and healthy.
Last week, our nation marked a dark anniversary – the attack on the U.S. Capitol on January 6, 2021. As someone on Capitol Hill while the events of that day transpired, the attempt to overturn our democracy was a searing moment for me personally. Seeing the Confederate flag paraded through the Capitol and seeing law enforcement officers beaten mercilessly are images that are hard to get past. I hope that every American took time reflect on the fragility of our democratic republic and the necessity of building a more perfect union.
In DC, Congress can and should take action to strengthen our democratic systems to ensure that this never happens again – and to safeguard our democracy for generations to come. I wrote about it over the weekend in The News Tribune – I hope you'll give it a read: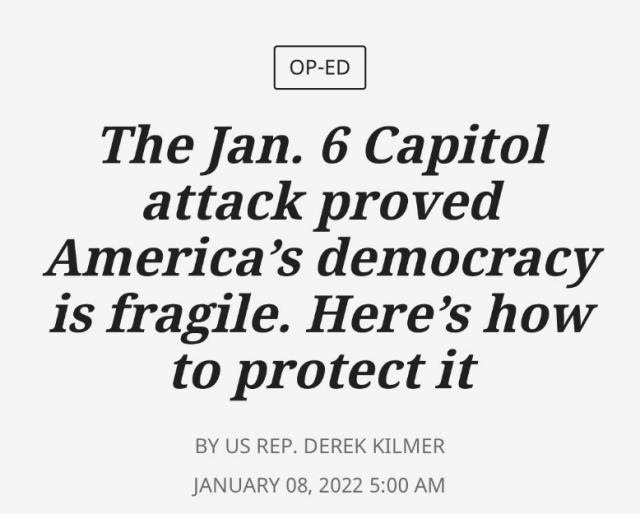 Rebuilding Our Infrastructure and Investing in Our Communities
Toward the end of last year, I was proud to vote in support of the bipartisan Infrastructure Investment and Jobs Act (aka the bipartisan infrastructure law)—the largest long-term investment in America's infrastructure and competitiveness in nearly a century. The bill, which passed both the House and the Senate with bipartisan support and was signed into law by President Biden, will deliver substantial new federal funding for infrastructure in communities right here in Washington.
Even before the COVID-19 pandemic, we knew that America's infrastructure was already struggling. From failing roads and bridges, to aging sewer and water infrastructure, it's no wonder the American Society of Civil Engineers graded America's infrastructure as a C-.
This bipartisan infrastructure law was passed to fix that. It's a law that's about putting people to work now and laying the foundation for economic growth over the long haul by investing in roads, bridges, transit, water systems, ports, and broadband.
The new law recognizes that we can't compete in a 21st Century economy with 19th and 20th Century infrastructure. There are folks in our region who are tired of sitting in traffic. There are people who don't have the internet access they need to have a telehealth appointment or take an online class. There are families that don't have access to clean water. This law is about fixing those problems.
Since the legislation was signed into law, I've been traveling from pillar to post across our region to meet with folks who know how big of a boost this bill will be for rebuilding our critical infrastructure – and for creating new jobs. I'll show you what I mean!
The bipartisan infrastructure law will repair and rebuild roads and bridges
In Washington, there are 416 bridges and over 5,469 miles of highway in poor condition. And in our region, we know that all too often, many of our roads and bridges are susceptible to damage from strong storms, flooding, and landslides – including SR 112 on the Peninsula and in towns like Aberdeen and Hoquiam, where recent storms and high tides have wreaked havoc.
Recently, I met with Washington State Department of Transportation officials on SR 112 near Jim Creek to see firsthand how recent storms resulted in standing water, roadway settlement, and a debris slide, leading to the closure of that important highway.
The bipartisan infrastructure bill will devote more than $312 billion to transform our nation's transportation infrastructure with a big focus on the resiliency of our infrastructure. The bipartisan infrastructure bill is the single largest dedicated bridge investment since the construction of the interstate highway system. And the new law provides dedicated funding specifically to deal with resilience challenges like the ones we've seen on the peninsula.
The bipartisan infrastructure law will improve healthy, sustainable transportation options for millions of Americans
Despite the good work of our local public transit agencies, public transportation solutions are not currently meeting the needs of folks in our region who use transit daily to get to work, to school, and around our communities. Washingtonians who take public transportation spend an extra 72.9% of their time commuting. In addition, 17% of trains and other transit vehicles in the state are past their useful lives. That's why the bipartisan infrastructure bill includes a nearly $1.8 billion investment for Washington to improve public transportation options across our state – and make our options greener and more energy efficient.
That includes funding for the Capital Investment Grant program, which has funded large transit projects like Sound Transit's Hilltop Tacoma Link Extension project – which I visited last month. It's an essential project that will help connect people to major medical facilities and small businesses.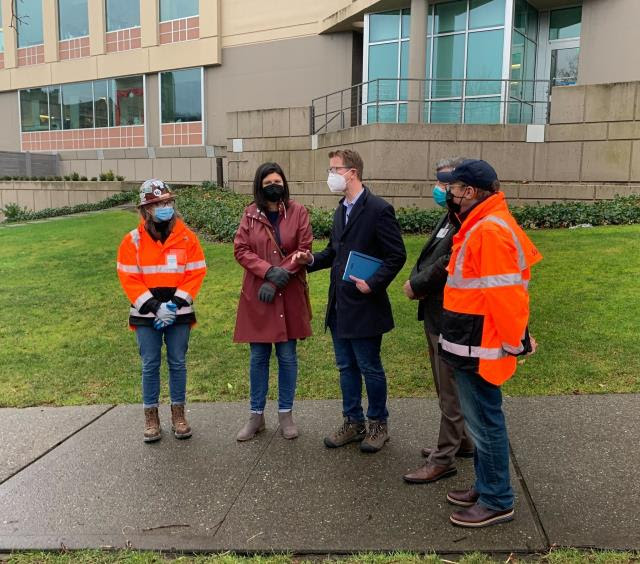 The new bipartisan infrastructure law includes a significant new investment to help build a national network of electric vehicle (EV) charging stations. We know that the transportation sector is the most significant source of emissions in Washington state. And we know that accelerating America's transition to electric vehicles will create good-paying jobs and help to combat the climate crisis. I met with leaders from Bates Technical College and Tacoma Public Utilities who agree: this is a big deal for our region as we seek to lead the way to a greener transportation sector! Watch this video to hear why:
This law will also invest in making other transportation systems cleaner and greener – like zero emissions buses, and electric ferries! I stepped aboard the Kitsap Transit Fast Ferry from Bremerton to Seattle with Kitsap Transit CEO John Clauson to visit with commuters – and to talk about how the law will provide help state and local governments replace existing ferries with low carbon ferries and assist states with operational costs for essential rural ferries. The law will help Kitsap Transit and other transit agencies in our region in their efforts to attain cleaner and greener vessels!
The bipartisan infrastructure law will strengthen the competitiveness of our region's ports
Our region's ports are critical economic engines and job creators. That's why it's important that the new bipartisan infrastructure law provides funding for port modernization as well as dedicated funding for competitive grants to improve facilities, operations, and intermodal connections to coastal seaports. These investments will support projects to decarbonize port infrastructure, improve the movement of goods through our nation's ports, and enhance port resiliency in the face of climate change. This can benefit ports in Tacoma, Bremerton, Port Angeles, and Grays Harbor, just to name a few! I visited with the team at the Port of Grays Harbor just before the holidays to talk about how the new law can help increase funds for programs that are essential to supporting the Port's growth and job creation efforts!
And those are just a few of the highlights from the new law. It also includes a historic investment in expanding broadband to close the digital divide and help ensure every American has access to reliable high-speed internet, including the 241,000 Washingtonians who currently lack it. It includes a new program to invest in a national culvert restoration program to remove, replace, and restore culverts, which will improve fish passage and enable habitat recovery. And it includes investments in clean drinking water to make sure that our kids are safe and healthy well into the future!
In other words – it's a big deal. I'm sure you'll be hearing about the impacts that this new law will be having for years to come. Stay tuned!
Working for You
Being Accessible to You
As your representative, I work hard to be accessible and responsive to the folks I represent. It was great to meet constituents on their morning commute aboard the WSF Bainbridge Island Ferry! Thanks to all the folks who stopped by to talk about the issues on their minds. I appreciated the conversations. My thanks also to the crew for having me aboard!
Helping One Another in the Fight Against COVID-19
Throughout the pandemic we've seen communities step up to help support one another—and that's what has happened on Bainbridge Island. Together, Bainbridge Island Community Pharmacy, Bainbridge Island Fire Department, the City of Bainbridge Island, and Bainbridge Prepares have come together to vaccinate thousands of folks! It was great to visit with some of these awesome folks to say THANK YOU for stepping up to help keep their neighbors healthy and safe. That's what community is all about!
Creating More Affordable & Accessible Housing
Even before this pandemic, we were dealing with tremendous challenges related to housing affordability. That's why the Build Back Better Act includes robust investments in affordable housing – providing rental assistance, addressing the public housing repair backlog, and investing in building and preserving affordable homes. It was great to connect with April Black and the team at the Tacoma Housing Authority to talk about how the bill will help communities in our region. We met at their newest property development on the Hilltop, The Rise, which features 64 apartments – including units for folks exiting homelessness and for people with disabilities. I'm grateful for the tremendous work – and outstanding partnership – of April and her team!
OK – that's it for now folks. As always, I'm honored to represent you.
Sincerely,
---
---
Previous Article