04.05.21
Investing in Infrastructure and Creating Jobs in our Region
Hello Folks –
I hope you were able to have a relaxing Easter weekend. I confess, I had three pleasant surprises this weekend…
The Mariners already have a winning record!
I made a carrot cake … and it was surprisingly edible!
My eldest daughter, Sophie, turned 15 on Sunday. (OK … not officially a "surprise" but – wow – time has really flown!).
Speaking of time flying …
The last two weeks have been jam-packed – starting with a telephone town hall I hosted with Washington Secretary of Health Umair A. Shah, MD, MPH. We spent over an hour talking about the American Rescue Plan's impact on families and local employers in our region, and about the COVID-19 vaccination effort in our state. We also took a whole bunch of questions from folks across the region. If you missed it, you can listen to the full town hall here.
But that was just the start – so let's get right into the details!
Investing in Infrastructure and Jobs
Truth be told, I've found that infrastructure isn't always the most exciting conversation starter. When I visit Rotary Clubs or Chambers of Commerce, I've found that when I start talking about infrastructure, folks start to yawn. In fact, I've joked that infrastructure stems from Latin – "Structure" meaning structure and "infra" meaning … boring.
Having said that, I remain enthusiastic about infrastructure reform because it really matters—to our communities, to public safety and public health, to our nation's ability to confront the climate crisis, and to our ability to get students, patients, and small businesses online.
Even before the COVID-19 pandemic, we knew that America's transportation and infrastructure were already struggling. From failing roads and bridges, to aging sewer and water infrastructure –it's no wonder the American Society of Civil Engineers has graded America's infrastructure as a C-. Additionally, we've got major gaps to fill, including expanding broadband access to low-income and rural communities, enhancing our nation's mass transit systems, and investing in green infrastructure to improve resilience and combat climate change. That's why I have long been a proponent of infrastructure investments that will achieve these critical goals.
Plain and simple: America can't compete in a 21st century economy with 19th and 20th century infrastructure. That's why I'm thrilled that last week, President Biden announced the American Jobs Plan – a comprehensive plan to modernize our roads, bridges, ports, and transit systems, build and invest in housing, deliver clean water, and bridge the digital divide – all while creating good-paying jobs.
As President Biden said, the American Jobs Plan aims to invest in America in a way that hasn't been done since we built the Interstate Highway System decades ago. Among other things, the plan aims to:
Modernize 20,000 miles of highways, roads, and main-streets – and repair the worst 10,000 smaller bridges across the nation which provide critical linkages to communities.
Replace thousands of buses and rail cars, improve our ports, renew airports, and expand transit and rail into new communities.
Eliminate all lead pipes and service lines in our drinking water systems, improving the health of our country's children and communities of color.
Put hundreds of thousands of people to work laying thousands of miles of transmission lines and capping hundreds of thousands of orphan oil and gas wells and abandoned mines.
Bring affordable, reliable, high-speed broadband to every American, including the more than 35 percent of rural Americans who lack access to broadband at minimally acceptable speeds.
Create good jobs building, rehabilitating, and retrofitting affordable, accessible, energy efficient, and resilient housing, commercial buildings, schools, and child care facilities all over the country.
Invest in research and development and train Americans for the jobs of the future to ensure that the best minds in America are put to work creating the innovations of the future while creating hundreds of thousands of quality jobs today.
And those are just the headlines! We know that investing in infrastructure can put people to work now—and lay the foundation for long-term economic growth in our region and across the country. The American Jobs Plan will help create good-paying jobs, build a greener future, and take vital steps to invest in our future. You can read more about President Biden's plan here, and I expect you'll be hearing more about it from me in the months ahead.
Defeating COVID-19
Community health centers across our region have been providing critical support to folks throughout this pandemic. Now, as they work to ramp-up COVID-19 vaccination efforts, new federal funding from the American Rescue Plan will help bolster their efforts to ensure we get as many shots in as many arms, as quickly as possible.
Last week I was proud to announce that three of the community health centers in our region will together receive over $15 million in American Rescue Plan funds to expand their COVID-19 vaccination and treatment operations – including Community Health Care in Tacoma, North Olympic Healthcare Network in Port Angeles, and Peninsula Community Health Services in Bremerton.
The health centers can use the funding to expand COVID-19 vaccinations, testing, and treatment for vulnerable populations; deliver preventive and primary health care services to people at higher risk for COVID-19; and expand operational capacity during the pandemic and beyond. It's great news!
I recently visited Peninsula Community Health Services in Bremerton to see their operations firsthand and talk about how this critical new support will help the COVID-19 vaccination effort. I'm hopeful that with this additional assistance, we can save more lives and speed up our recovery from this health and economic crisis.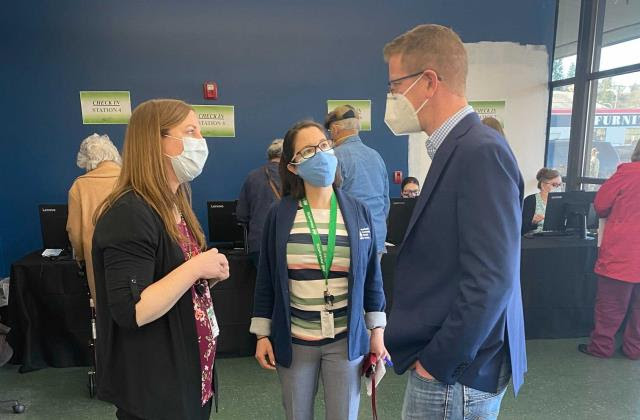 Providing Resources for Veterans
Veterans had our backs when we needed them the most, and I believe we should have theirs. That's why I co-sponsored the SAVE LIVES Act which opens up COVID-19 vaccinations to ALL veterans, their spouses, and their caregivers – and I was thrilled that President Biden signed this legislation into law.
To help find out how that will impact veterans in our region, last week I spoke with the team at VA Puget Sound Health Care System about the vaccination effort for veterans in our region and to learn more about how VA Puget Sound has been working to provide care to veterans throughout this pandemic. We posted the full conversation here – and veterans can visit this website to get the latest updates and sign-up to stay informed about COVID-19 vaccines through VA Puget Sound.
Introducing New Legislation to Honor our Heroes
Years after the end of the Vietnam War, too many of our Vietnam veterans have not been sufficiently recognized for their service and their sacrifice. That remains true for incredible members of the Dust Off crews - helicopter air ambulance pilots, crew chiefs, and medics who performed aeromedical evacuation of over 900,000 U.S., Vietnamese, and allied forces from May 1962 to March 1973.
Dust Off units in Vietnam often faced bad weather, mountainous terrain, and intense enemy fire – with crewmembers facing a one in three chance of being wounded or killed. One Dust Off unit, the 54th Medical Detachment, typified the heroism of Dust Off crews. Over 10 months with only three helicopters and 40 soldiers, it evacuated 21,435 patients on 8,644 missions over 4,832 hours. It earned 78 valor awards.
Their efforts were heroic – and they deserve our recognition and praise. That's why, last week, I introduced new bipartisan legislation to award Dust Off crews of the Vietnam War with the Congressional Gold Medal – the highest expression of national appreciation for distinguished achievements and contributions. This would be an important step toward recognizing the pivotal role that these servicemembers played in saving the lives of so many and serving their country proudly. I'll keep pushing to see that this effort comes to fruition so we can demonstrate our appreciation on behalf of a grateful nation.
Addressing Chronic Federal Funding Shortfalls for Native Americans
For too long, the federal government has failed to meet its trust and treaty obligations to Native Americans. In 2018, the U.S. Commission on Civil Rights released a comprehensive report documenting the federal government's systemic shortcomings to Native American communities – the Broken Promises Report. The report detailed how these failures have limited Tribal sovereignty and access to essential services like education, health care, public safety, housing, and economic opportunity in Native American communities across this country.
As someone who represents 11 federally recognized Tribes, I haven't taken this report and its recommendations lightly – and I've been working to ensure that the federal government makes meaningful strides toward addressing the shortcomings outlined in the report. But more progress can and should be made – and the federal government must keep its promises.
That's why last week I led a bipartisan letter from over 20 lawmakers to encourage President Biden's first budget request to include the necessary funding increases to begin addressing the disparities outlined in the Broken Promises Report. While it's ultimately Congress' responsibility to appropriate the necessary resources, the President's budget request will serve as an important foundation for those efforts and should reaffirm our commitment to a meeting our treaty and trust obligations.
Working for You
Supporting New Local Transit
Last weekend, I took part in the inaugural sailing of Kitsap Transit's new fast ferry from Southworth. This is good news for folks in Kitsap County - and a terrific example of the community coming together to make progress for our region. Congratulations to John Clauson and the entire Kitsap Transit team!
Thanking Our Servicemembers and Military Families
I really enjoyed joining a team of volunteers at Silverdale Lutheran Church last weekend to say THANK YOU to the sailors and families from the USS Nimitz after a historic deployment. I am so grateful for their tremendous service and dedication to our country. Welcome home!
Standing Up Against Hate
Each of us needs to speak up and speak out when we hear racist or xenophobic rhetoric. Each of us needs to condemn anti-Asian violence and hate. And each of us needs to stand up for one another. Last weekend, I joined hundreds of people in Tacoma who showed up to stand in solidarity with the Asian American Pacific Islander community and to stand up against anti-Asian hate. I'm grateful to all those who attended and to the YWCA, the Asia Pacific Cultural Center, and the Chinese Reconciliation Project Foundation who hosted this powerful event.
I also spent last week's national day of Healing and Action speaking with Clarence Moriwaki, the president of the Bainbridge Island Japanese American Community. We discussed our nation's history and the importance of condemning anti-Asian hatred and violence in our communities. Watch the full conversation here.
OK – that's it for now folks. Take care of yourselves – and one another. As always, I'm honored to represent you.
Sincerely,
Derek
---
---
Next Article
Previous Article