01.04.21
Kicking Off the New Year
Hello Folks -
Happy New Year! I, for one, am hoping 2021 is a better year than 2020 (admittedly a low bar… but still).
Honestly, I'm looking forward to what the new year will bring. I've made my personal resolutions (average at least 16,000 steps per day, keep it to one caffeinated beverage, fit into my gray trousers again, join Sophie in learning to play the guitar), but my most important resolution is to represent you well.
Yesterday, I was sworn in as your representative for the 117th Congress.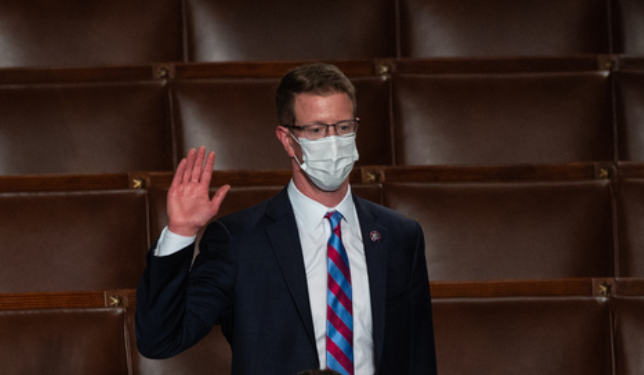 I'm honored to continue working for you.
I resolve to do all I can to help our country overcome this pandemic and economic crisis. I resolve to do all I can to create more economic opportunity for more people in more places – so that no matter what zip code you live in, you have a chance to earn a good living. And I resolve to do all I can to make government work better for you.
I know that brighter days are ahead for our region and our country. There's plenty to do, so let's get right into the details!
Certifying the Election Results
On Wednesday, Congress will be voting to certify the Electoral College vote. Usually this is a low drama exercise; however, as you may have read, some Republicans in the House and Senate intend to challenge the electors from several states.
It's worth understanding how we got here. Voters voted two months ago. Those votes were counted by local election departments. Those votes were certified by the secretaries of state for the various states. In several states, there have been recounts. In several states, there have been lawsuits by President Trump suggesting a variety of conspiracy theories. Time after time, the courts have found that those lawsuits have no merit.
Let's look at Georgia—a state with a Republican Governor and Republican Secretary of State. The President has suggested a multitude of conspiracy theories in an attempt to explain how he could have lost Georgia. A Georgia newspaper did an investigation into those five allegations and found all five to be false. You can read that here - Fact check: Georgia voting fraud allegations examined (The Atlanta Journal-Constitution). Then, this weekend, the President sought to pressure Georgia's Secretary of State to "find 11,780 votes" and to recalculate the vote in his favor.
I know that there are a lot of people with passionate views about the presidential election. But I'm a big believer in following the will of the voters. It's not just Democrats who are raising concerns about these efforts to challenge the election results. The GOP Conference Chair Liz Cheney said doing so would be unconstitutional. "Such objections," Cheney wrote, "set an exceptionally dangerous precedent, threatening to steal states' explicit constitutional responsibility for choosing the President and bestowing it instead on Congress. This is directly at odds with the Constitution's clear text and our core beliefs as Republicans." Former House Speaker Paul Ryan agreed, saying, "Efforts to reject the votes of the Electoral College and sow doubt about Joe Biden's victory strike at the foundation of our republic. It is difficult to conceive of a more anti-democratic and anti-conservative act than a federal intervention to overturn the results of state-certified elections and disenfranchise millions of Americans. The fact that this effort will fail does not mean it will not do significant damage to American Democracy."
So, with all of that said, my intent on Wednesday is to certify the Electoral College votes as presented to Congress.
Pushing for Further Support for Families in Need
As I wrote in the last newsletter, Congress finished off the year by passing a new comprehensive COVID-19 relief bill. Like most things that come out of Washington, D.C., this bill wasn't perfect. But the bill marked progress. It helped make a down payment on giving our communities resources they need to help beat back this virus and distribute vaccines. And, importantly, the bill provided vital support to families and local employers.
Having said that, we know that more is needed. So, over the holidays, I voted for the fourth time to support larger stimulus checks for folks who are struggling to make ends meet. With my support, the House passed a simple, two-page bill to provide $2,000 in direct payments to help people make ends meet. This bipartisan bill was supported by the President and over 40 House Republicans. But yet again, Senate Majority Leader Mitch McConnell has blocked this bill from even getting a vote in the Senate.
Too often, cable news treats these issues like political games to be won. But as Majority Leader McConnell keeps this bill from moving forward, I'm not thinking about who is winning or losing political points; I'm thinking about the folks I represent who desperately need some help.
Here's the thing: I talk to folks in our region every day about their struggles to get through this pandemic, and it is clear as day – the American people do need it. The small business owner in Tacoma who had to close-up his family business needs this help. The mother in Port Angeles who is going to the local food bank for the very first time needs this help. The recently unemployed father in Bremerton who is falling behind on his bills needs this help.
But this isn't the end of the fight. I'm hopeful that 2021 will bring further efforts to restore our economy and help those in need.
Working to Fix Congress
Frequent readers of this newsletter know that I'm committed to doing all I can to get government working better for the people I represent – and for all of the American people. As part of that effort, early in 2019, I was appointed by the Speaker of the House to serve as the Chair of the Select Committee on the Modernization of Congress—or what is commonly referred to as the "Fix Congress Committee."
Over the course of last two years, the Committee has worked in a bipartisan manner to get things done, with six Democrats and six Republicans working collaboratively to pass nearly 100 recommendations to make Congress more efficient, effective, and transparent for the folks we serve.
I was thrilled to learn just before Christmas that our work will continue in the 117th Congress – and that the Speaker has placed her trust in me to continue to lead this effort.
I had the unique opportunity to speak with NPR's "All Things Considered" late last month about the ongoing work of the Select Committee to get Congress back to being productive. Take a listen by clicking on the link below or check-out the accompanying article here.


Honoring a Local Hero
Our region is filled with the stories of so many incredible and brave folks who served our country – including John Henry Turpin, a distinguished U.S. Navy sailor who was a lifelong resident of Bremerton.
John Henry Turpin's thirty-year career in the Navy included his service during the Spanish-American War, the Boxer Rebellion, and World War I. Not only is he believed to be the first Black American to qualify as a Master Diver, he was also one of the first Black Americans to achieve the rank of Chief Petty Officer in the U.S. Navy. His outstanding legacy of service to our country is made even more significant by the era of prejudice and discrimination during which he served.
That's why I'm proud that in December, the President signed into law the bipartisan bill I introduced to designate the U.S. Postal Service facility on Pacific Avenue in Bremerton as the John Henry Turpin Post Office Building, in recognition of his achievements and service.

It was a total community effort to get to this point – and I'm thrilled to have worked with great community leaders like Karen Vargas, the Founder of the Living Arts Cultural Heritage Project, Tracy Flood, the President of the NAACP Unit 1134, Bremerton Mayor Greg Wheeler, and others to make this a reality.
It's fitting that Democrats and Republicans stood together in the halls of Congress to honor Turpin's life-long and selfless commitment to the defense of America and American values this year - and to ensure that his accomplishments are permanently remembered in the City of Bremerton.
Working for You
Pushing to Expand Broadband
Now more than ever, increasing access to broadband is crucial. This past year, the ability of students to be able access their classrooms from home and folks need to be able to work from home has been crucial. I enjoyed touching base with the team at the Kitsap Public Utility District. They've been tremendous partners in working to expand access to broadband in our region. It was great to share more about my efforts to enhance federal investments for broadband through the appropriations process and discuss how my Broadband for All Act would be helpful to KPUD's efforts in getting more internet access to more folks in our region. Count me on the home team!
Being Accessible and Accountable to YOU
Just before Christmas, I held my final telephone town hall for 2020 with to discuss the end of year spending agreement and the new relief provided in the comprehensive COVID-19 relief bill. In addition, I was joined by Fred Hutch professor and internationally renowned vaccine expert Dr. Larry Corey, who helped answer questions about the new COVID vaccines and the road ahead! If you missed it, you can listen to the full conversation here.
OK – that's it for now, folks! Wishing you and yours a safe and healthy beginning to 2021!
As always, I'm honored to represent you.
Sincerely,
Derek
---
---
Next Article
Previous Article