06.13.22
Updates on Cutting Costs, Tackling Gun Violence, and Helping Veterans Secure Affordable Housing
Hello Folks –
In this job, it's important for me to hear from the folks I represent. That's why I was excited to host a town hall in Bremerton last week to take questions about all sorts of issues – from lowering the costs of health care, to holding oil companies accountable for price gouging, to having the backs of our federal workers and our veterans.
Thanks to who everyone who came out! Now… on to the news!
Cutting Costs for American Families
Now that the economy has shown signs of a robust recovery from the COVID-19 pandemic, we're facing real concerns across the globe about rising inflation – including here in America. It's a problem for all of our families if the costs of the things we depend upon rise to the point where we cannot afford them. I know folks are sitting at their kitchen tables trying to figure out how to make ends meet.
It's important to me that we give people who are feeling squeezed by rising prices a break. That's why in recent months, I've been part of the New Democrat Coalition's (New Dems) first-of-its-kind Inflation Working Group. We've met with economists, policy experts, and key stakeholder groups to develop and advance effective policy solutions to fight inflation.
Last week, the New Dems introduced a comprehensive action plan to fight inflation, lower the cost of living for Americans, and secure the long-term fiscal future of the nation. We outlined tangible steps to reduce prices on essential goods and services and provide relief to American families, workers, and businesses. This includes:
Strengthening global supply chains
Getting more people back to work
Suspending and reducing tariffs and other trade barriers
Lowering energy prices and transitioning to a clean energy economy
Increasing affordable housing
Lowering the price of food
Reducing the out-of-pocket costs for Americans
Investing in the long-term fiscal strength of the nation
You can read more about it here. Forbes called the plan "the best inflation-fighting blueprint to come out of Congress yet." The plan will help provide immediate relief for folks – and keep inflation down in the long-term. I'll keep pushing for actions to lower costs for folks in our region!
Taking Action to End the Epidemic of Gun Violence
On Friday I met with four young people who were survivors of mass shootings or who had lost loved ones as a result of senseless, terrible tragedies. My heart broke hearing their stories.
From Buffalo to Uvalde, we simply cannot accept such tragedies as the norm. We should never grow accustomed to hearing a parent speak about planning a child's funeral. We should never get used to seeing our kids running out of a school with their hands in the air in the midst of an active shooter situation. Every single American should have a right to be able to go to a school, or a grocery store, or a church, or anywhere else without having to fear for their safety.
Last week, I voted for, and the U.S. House of Representatives passed, legislation to take real steps toward keeping our kids safe and ending the epidemic of gun violence in America. Universal background checks, red flag laws, supporting safe storage. These steps are not just common sense – they are supported by the vast majority of the American people.
While there's been preliminary good news out the Senate about a potential bipartisan agreement, I am hopeful that we will finally see action. To all those who marched this weekend and who are fighting for change, know that I stand with you – not just as your representative but also as a dad. I'll be pushing to get this done.
Helping Veterans Secure Affordable Housing
If you serve this country, the federal government ought to have your back. That means that every veteran should receive the benefits that they have earned and deserve – including when it comes to housing.
Last week, I led a bipartisan letter signed by more than 60 of my colleagues to the U.S. Department of Veterans Affairs (VA) Secretary Denis McDonough, urging the VA to improve its mortgage loan program to make homeownership more attainable for America's veterans. Specifically, we asked the Secretary to explore how VA mortgage loans can compete in today's marketplace and ensure veterans have negotiating power throughout the home buying process. You can read more about our effort here.
I believe that every veteran should have a home – and it shouldn't be under a freeway overpass. That's why I'm helping to lead the bipartisan effort to make homeownership more attainable for our nation's veterans and to improve the VA mortgage loan process.
Working for You
Hearing from Folks in Our Region
In addition to my town hall in Bremerton, I appreciated the opportunity to join the Central Kitsap Community Council to talk about my ongoing work to cut costs for folks in our region, lower prices at the pump, and protect our democracy. Thanks to everyone who attended and asked great questions - and to Commissioner Ed Wolfe for the invitation!
Congratulating Local Graduates
It was my honor to celebrate the graduating class of the West Sound Technical Skills Center. These young people were so impressive – and will be important to our economy! Congratulations to the graduates – and best wishes in your next chapter!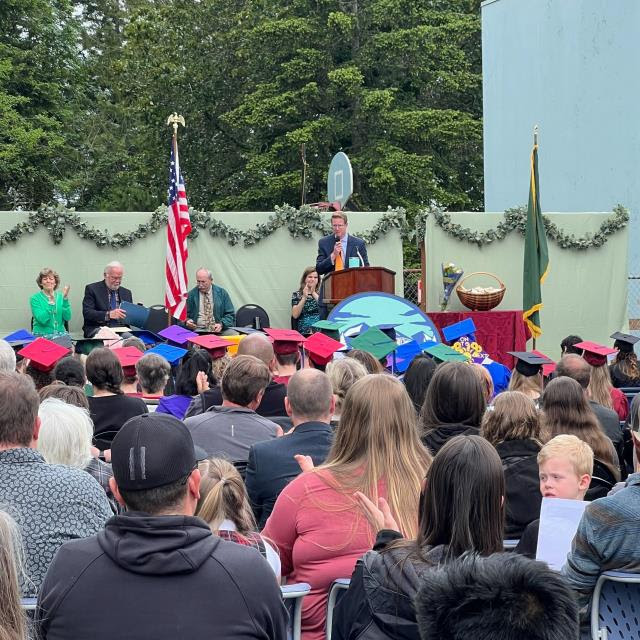 Being There for Our Community
It's always great to catch-up with the leadership team at the Tacoma Urban League, which has been working for over 50 years to strengthen and support the local African American community in the South Sound. We talked about a number of pressing issues - including my ongoing efforts to combat inflation and cut costs for folks in our neck of the woods. We also talked about my bipartisan bill that aims to reduce polarization and support community bridge building in our region and across the nation.
OK – that's all for now, folks. As always, I'm honored to represent you.
Sincerely,
Derek
---
---
Previous Article