05.02.22
Updates on Supporting Small Businesses & Entrepreneurs, Recovering & Restoring Puget Sound, and This Week's Town Hall
Hello Folks –
As many of the readers of this newsletter know, it's important for me to hear from as many constituents as possible across our region in this job. I was thrilled that so many folks were able to tune-in to my telephone town hall on April 20 to learn more about my ongoing work to create jobs and cut costs for working families, and new federal investments I've secured to help communities across our region grow jobs and expand affordable housing. If you missed it, you can listen to the whole conversation HERE.
I'll also be hosting an in-person town hall this coming Saturday morning at 10:30 am at Tacoma Community College – sign-up to attend HERE.
OK – let's dive into the recent news!
Supporting Small Businesses & Entrepreneurs
Small businesses are not only the backbone of our economy, they are our economy's star running backs. They rack up the tough yards and score the touchdowns on Main Street in towns and cities across the country – creating over 60 percent of new jobs in the private sector. But over the past two years, our small businesses have faced immense challenges during the COVID-19 pandemic.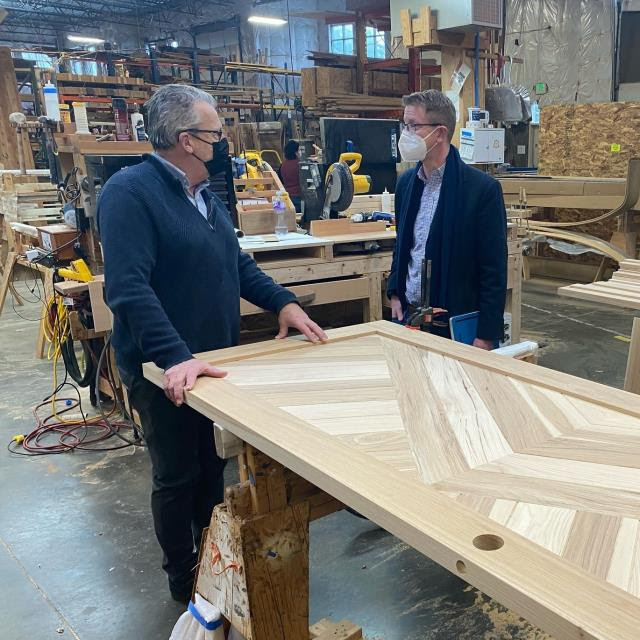 As the representative for our region and as someone who worked professionally in economic development for over a decade, I believe the federal government should do some blocking and call some plays for our small businesses. That includes supporting some critical federal programs that we know are making a real difference in our communities and creating jobs. Last week, I was proud to support four bipartisan bills, that all passed the House, to help our small businesses get ahead, including:
Small Business Development Centers Improvement Act – Across our region, the Washington Small Business Development Center provides critical no-cost business consulting and low-cost training to new and existing small businesses. This bipartisan legislation will help expand the SBDC program and bring their services to even more small businesses in our neck of the woods! You can access the network of more than 30 expert business advisors working in communities across the state here.
Women's Business Centers Improvement Act – In the Evergreen State, the Washington Women's Business Center helps support the startup and growth of women-owned businesses - providing a full range of counseling and technical training services. This bipartisan legislation will provide resources for Women's Business Centers in order to increase access to vital counseling and training services that help set entrepreneurs up for success. You can access resources to build your business with the help of Washington Women's Business Center here.
SCORE for Small Business Act – SCORE provides aspiring entrepreneurs with education and mentorship services to help them start, grow, or troubleshoot a small business issue. In 2020 alone, SCORE helped entrepreneurs start over 45,000 new businesses and created nearly 75,000 jobs. This bipartisan legislation will reauthorize this critical program and expands counseling and training programs to provide online webinars, electronic mentoring platforms, and online toolkits to better serve small businesses. Check-out SCORE, which has the largest network of free volunteer small business mentors in the nation, here.
One Stop Shop for Small Business Compliance Act – As small businesses across our region know, there can be a lot of rules and regulations to keep track of. Federal agencies are required to publish small business compliance guides – but unfortunately, these guides are housed on different agency websites - making it difficult for small businesses to find and utilize them. This bipartisan legislation would make these guides more accessible by creating a centralized, online "one-stop-shop" for small business owners - making it easier for folks to run their small businesses and access resources from the federal government.
Often times, bills that get supported by both Democrats and Republicans don't get a lot of media attention. But – they matter! These bills represent some real progress in making sure that our small businesses have the resources they need to navigate this economic recovery. We'll keep at it!
Pushing for Support to Recover & Restore Puget Sound
As frequent readers of this newsletter know, it's a top priority of mine to secure more federal support for the recovery and restoration of Puget Sound - our region's most iconic body of water. Puget Sound is a place on which generations of friends and neighbors have built their lives and made their livelihoods. It's a critical part of our environment and economy, and home to culturally iconic species like salmon, orca, and Dungeness crab. But we know that if future generations – including my own kids – are going to have those same opportunities to enjoy all the Sound has to offer, we've got to act now to protect and restore Puget Sound.
That's why, in 2013, I worked with my friend (and now our state's Lieutenant Governor) Denny Heck to establish the Puget Sound Recovery Caucus as a way of bringing more attention to the urgent need to restore and recover the Sound. Over the years, we have successfully worked to secure additional federal funds to implement projects that improve water quality, protect shorelines, and enhance fish passage and salmon habitat.
And it's why, as a Member of the House Appropriations Committee, I've worked to secure federal funding that can help assist with the regional efforts needed to save our Sound, restore salmon and orca populations, ensure future generations have access to the same economic opportunities, and uphold Tribal treaty rights.
Last week, I was able to speak with U.S. Environmental Protection Agency Michael Regan about how we can continue to make progress in our efforts to protect and restore the Puget Sound – and he committed to taking action. Check out our conversation here:
Providing Assistance to Ukraine
Over the last two months, Russia has continued its unprovoked and aggressive invasion of Ukraine. The invasion is not only illegal - but a reckless breach of global peace and stability.
It has long been an American value that we respect the sovereignty and territorial integrity of our allies. Our nation has supported the notion that countries should be able to choose their own destinies without the threat of invasion. The United States must do all we can to support Ukraine and impose severe costs on Russia.
Last week, I voted for legislation expediting the delivery of urgently needed security aid to the people of Ukraine as they continue to repel Russia's invasion. Reviving a game-changing World War II program, the Ukraine Democracy Defense Lend-Lease Act will streamline the shipment of weapons systems, ammunition, and other equipment to Ukraine. Previously passed by the Senate, this legislation now heads to President Biden's desk to be enacted.
The action last week follows the passage of government funding legislation earlier this Spring, which secured $13.6 billion in humanitarian, military, and economic assistance for the people of Ukraine. And now, Congress is working to advance President Biden's request for additional relief funds.
On a strongly bipartisan basis, Congress has also taken several key steps to punish and isolate Russia, including the suspension of permanent normal trade relations, the reauthorization of the Global Magnitsky Human Rights Accountability Act, and a ban on the import of Russian oil and energy products. Additionally, the House has advanced the Asset Seizure for Ukraine Reconstruction Act and the Ukraine War Crimes Act.
My thoughts are with the people of Ukraine as they continue to courageously defend their country. I will continue to support U.S. government and NATO-led efforts to hold the Russian government accountable and to prevent further violence.
Celebrating Earth Day
I joined President Joe Biden in Washington state for Earth Day, where he signed a new Executive Order aimed at strengthening America's forests, boosting wildfire resilience, enhancing opportunities for outdoor recreation, and growing sustainable jobs in timber communities. As someone who grew up on the Olympic Peninsula, I learned first-hand that economic growth and environmental protection must go hand-in-hand. This Executive Order is a step forward in protecting our most ecologically diverse and environmentally sensitive areas, while also supporting the health of our working forests and growing the jobs that depend on them. As this is implemented, I'll keep working to ensure we embrace the important role our forests can play in combating the climate crisis – while ensuring that we provide opportunity and predictability for the timber industry and for communities on the Peninsula.
Working for You
Celebrating a Tremendous Community Organization
Over the course of the past century, Goodwill in Tacoma has been dedicated to ensuring that every person has the opportunity to learn, work, and thrive in all aspects of life. Our community, and our whole region, is better for it. It was fantastic to celebrate the centennial anniversary of the Goodwill of Olympics and Rainier Region!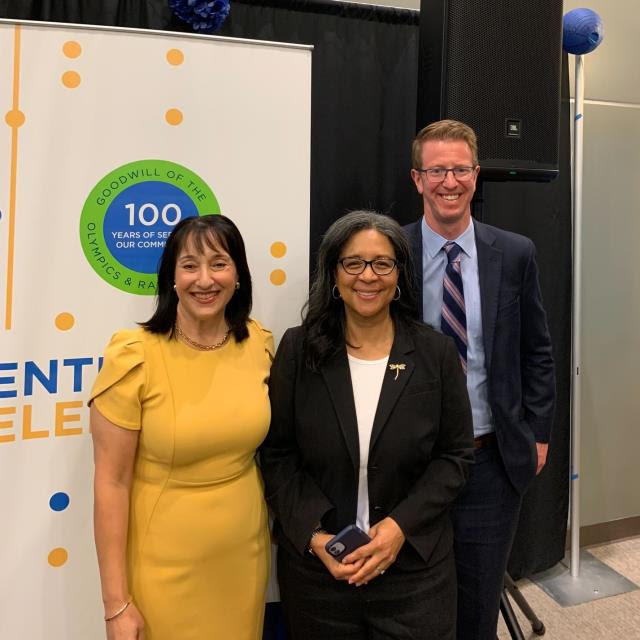 Strengthening Local Educational Opportunities
It was a big day in the City of Destiny recently as we cut the ribbon on Bates Technical College's new Allied Health Building! This new facility will help train hundreds of students in high-demand fields like occupational therapy, dentistry, phlebotomy, and practical nursing. Special shout out to the nursing students for letting me be their first patient.
Reducing Polarization and Supporting Community Bridge Building
Instead of accepting toxic polarization as the new normal, our region is lucky that local community, faith, and civic leaders are leading efforts to foster dialogue, defuse and address sources of conflict, and bridge differences. I was thrilled to join them recently to discuss the Building Civic Bridges Act—legislation sponsored by 10 Republicans & 10 Democrats—that aims to support that work. This bill will empower communities like ours to tackle sources of division while assisting local civic and community organizations across the country with their ongoing efforts to address contentious issues and ultimately, bridge divides. Big thanks to YMCA of Pierce and Kitsap Counties, University of Washington Tacoma, Braver Angels, Tacoma Community College, Associated Ministries, League of Women Voters of Washington, The Islamic Center of Tacoma, and the Tacoma Ministerial Alliance, for being positive change makers in our region. Count me as a partner!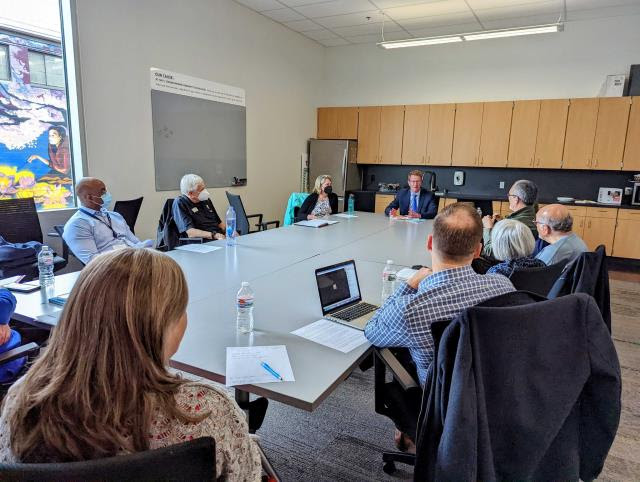 OK – that's it for now folks. As always, I'm honored to represent you.
Sincerely,
Derek
---
---
Next Article
Previous Article