04.19.21
An Update on the Progress We're Making for Families Across the Region
Hi Folks –
I hope this finds you safe and healthy. This weekend brought two pieces of really good news. First, there was that giant yellow orb in the sky! I don't know about you, but it was hard for me to remember a more beautiful weekend than the one we just experienced.
Second, and perhaps more importantly, I'm thrilled that our country reached an important milestone in the battle against COVID-19 over the weekend – half of U.S. adults have now received a COVID-19 vaccine! One of the main reasons I voted to support the American Rescue Plan earlier this year was to invest in getting as many vaccines in as many arms as quickly as possible. And it's clear we're making huge progress on that front!
Last week, ALL Washingtonians aged 16+ became eligible to receive a COVID-19 vaccine. If you or a loved one have not yet received your vaccination, you can make an appointment at vaccinelocator.doh.wa.gov or by calling 1-800-525-0127.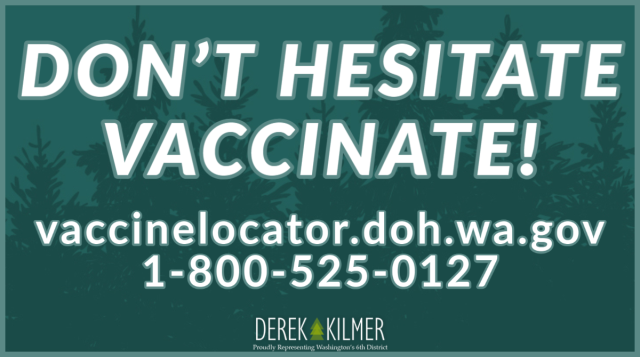 It's been a busy few week in DC – so let's get right into the details about some of the progress I've been making to get government, and the economy, working better for folks in our region.
Investing in Families
As the dad of two kiddos, I know that working families in our region and around the country depend on affordable and accessible child care. Child care gives parents the opportunity to participate in the workforce and provides valuable educational opportunities for kids. That's just one of the reasons I voted to pass the American Rescue Plan, which included a number of provisions aimed at helping child care businesses, enhancing access to child care, and supporting kids and parents alike. This new law provides reassurance to families that their kids will be cared for and provides stabilization to child care providers who need to maintain their businesses during this pandemic.
First, the American Rescue Plan included a new child care stabilization fund to help child care providers to reopen or stay open, provide safe and healthy learning environments, keep workers on payroll, and provide mental health supports for educators and children. In addition, the new law provides flexible funding to make child care more affordable for more families by increasing access to high-quality care for families receiving subsidies, increasing compensation for early childhood workers, and meeting other care needs in our region. These are huge initiatives that will make a real difference for families and for local small child care providers in our region.
I'll keep working to ensure Congress takes steps to support child care workers and protect access to child care during and after the COVID-19 pandemic.
Ensuring Equal Pay for Equal Work

I'm excited to announce that, last week, the House passed the Paycheck Fairness Act—legislation I co-sponsored that addresses the discrepancy in pay between women and men.

Plain and simple: if folks are working the same job, they should be paid the same amount of money. Unfortunately, this isn't the case. On average, today women make only 82 cents for every dollar that men make, amounting to a yearly gap of $10,157 between full-time working men and women. And that wage gap is even larger for women of color. For example, Hispanic women on average earn only 55 cents for every dollar that men make, Native American women on average earn only 60 cents for every dollar, and African American women on average earn only 63 cents for every dollar.
We cannot afford to accept these inequities as the status quo—it needs to change. That's why the House passed the Paycheck Fairness Act to modernize and strengthen the 1963 Equal Pay Act and bring the country one step closer to ensuring that women receive equal pay for equal work.

I want my children – and all kids – to grow up knowing that their work is valued just the same as anyone else's work. Passing this bill is an important step toward leveling the workplace playing field. I was proud to co-sponsor this bill, and I'm hopeful that it can find bipartisan support in the Senate.
Supporting Working Forests
As someone who was born and raised on the Olympic Peninsula, I know how important healthy, sustainably managed forests are to the economic well-being of our timber communities. In 2015, I helped launch the Olympic Forest Collaborative to unite the environmental community and the timber industry around a common goal of responsibly increasing harvest levels on the Olympic National Forest (ONF). The Collaborative is modeled on similar partnerships in Washington state like the Northeast Washington Forestry Coalition and was the first of its kind on the Peninsula.
In recent years, the ONF has struggled to produce meaningful harvest levels necessary to improve forest health, restore critical salmon spawning habitat, and support timber dependent communities – and there are opportunities to make critical improvements. Last Thursday, in a House Appropriations Committee hearing, I asked U.S. Forest Service Chief Vicki Christiansen how she plans to support the region's efforts to increase harvest levels and forest restoration projects on the ONF. You can watch our exchange here: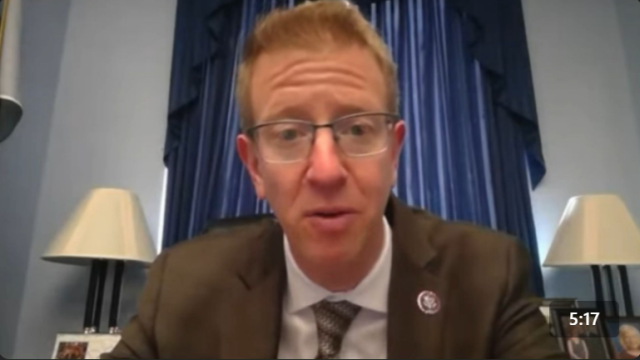 As a member of the Appropriations Committee, I'm working to ensure we advance forest treatments that increase harvest levels while also achieving much needed environmental benefits like landscape restoration, watershed protection, and habitat conservation.
For example, in last year's government funding bill, I was proud to help secure a measure to support our Collaborative and collaboratives like it across the country – highlighting their value and directing the U.S. Forest Service to prioritize resources to expedite project development and approval of forest treatments developed by collaboratives. They need support in order to produce additional timber sales while also accomplishing important restoration goals. This provision will help us create more economic opportunity in the region, and I was happy to get this done.
I also worked to secure measures in the legislation that will help support new wood technologies and wood that is sustainably harvested—which will deliver economic and environmental benefits to rural communities and grow jobs on the Olympic Peninsula.
I'll keep working in the days ahead to make progress on this front – and I'm looking forward to Chief Christiansen joining me out on the ONF!
Investing in Moms
Last week was Black Maternal Health Week—a time to elevate the issue of Black maternal health and the critical work that still needs to be done to address health inequities. The United States has the highest maternal mortality rate in the developed world and the only rate that is rising. That's a huge problem. Unfortunately, we also know that the maternal mortality rate is significantly higher among Black women, who are three to four times more likely than white women to die from pregnancy-related complications. Other women of color, including Hispanic, Native American, and Asian American and Pacific Islander (AAPI) women, also suffer from disproportionately high rates of adverse maternal health outcomes.
In this country, all women should have access to high quality maternity care before, during, and after pregnancy—no matter where they live, how much they earn, or the color of their skin. That's why I'm supporting critical legislation to help address the maternal health crisis in America, known as the Black Maternal Health "Momnibus" Act of 2021. This bill provides a comprehensive set of policy solutions and a roadmap for addressing maternal health disparities.
The "Momnibus" makes critical investments in addressing social determinants of health, funding community-based organizations that are working to improve maternal health outcomes and promote equity, and growing and diversifying the perinatal workforce. The bill also includes provisions focused on addressing the impacts of COVID-19 on maternal and infant health as well as supporting moms with maternal mental health issues.
This critical legislation will help save moms' lives, address racial and ethnic disparities in maternal health outcomes, and achieve maternal health justice for Black women and all women of color by building on existing legislation to comprehensively address the various dimensions of the maternal health crisis in America. I'll keep working to get this bill across the finish line so we can save moms' lives and improve health outcomes.
Working for You
Getting More Vaccines in More Arms
Just one drive-thru clinic at Jefferson Healthcare has delivered nearly 80% of the COVID-19 vaccinations administered in Jefferson County thus far! It was great to check in with their team to talk about how quickly they mobilized to meet the needs of this community, their continued focus on equity in their outreach, and how new investments from the American Rescue Plan will bolster efforts to get more shot in more arms, as quickly as possible. Thank you, Jefferson Healthcare, for all you do!

Supporting Local Farmers
I'm grateful to the farmers and agriculture producers from Jefferson and Clallam counties, and across our region, who have stepped up to keep our pantries, grocery stores, and food banks stocked during a global pandemic. Thank you for all that you do to keep our people and our planet healthy!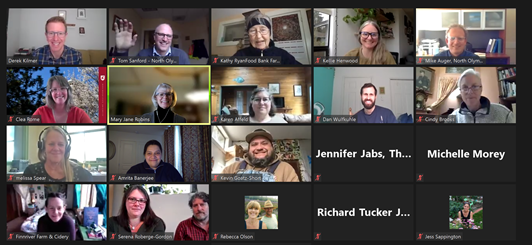 Having the Backs of Our Federal Workforce
I am proud to represent thousands of current and retired federal employees in our region who have served our country at local military installations, social service agencies, the Veterans Administration, and many more agencies that our neighbors depend on. It was great to check-in with members of NARFE – the National Active and Retired and Federal Employees Association – from our region last week to talk about the work I'm doing to strengthen our federal workforce and ensure our federal retirees receive the benefits they have earned and deserve. Count me as a partner!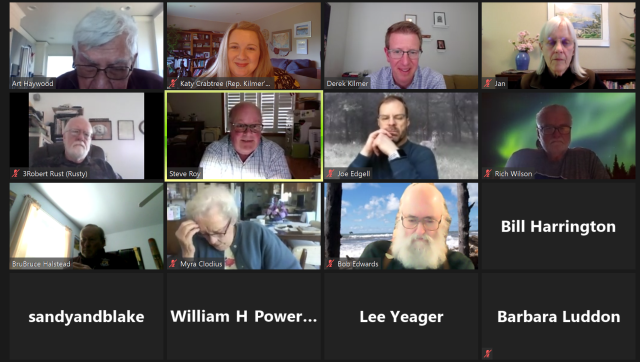 OK – that's it for now folks! Take care of yourselves – and one another. As always, I'm honored to represent you.
Sincerely,
Derek
---
---
Next Article
Previous Article