April 18, 2022
Details on This Week's Telephone Town Hall, New Legislation to Support Small Business, and My Work to Fix Congress
Hello Folks –
Just when you think spring has finally sprung – hail and snow hit the region (hopefully that's the last time we'll see winter for a while)! Despite the rugged April, I'm excited that the Mariners finally held their home opener and got the baseball season underway here in the Pacific Northwest.
I want to remind folks that on Wednesday at 6:00 pm PT, I'll be hosting a telephone town hall. In this job, it's important for me to hear from as many constituents as possible across our region. I hope you'll be able to tune-in to learn more about my ongoing work to create jobs and cut costs for working families, and new federal investments I've secured to help communities across our region grow jobs and expand affordable housing. Most importantly, I'll be taking your questions. Sign-up to receive a call automatically at 6 pm PT on Wednesday or listen live online here: http://Kilmer.House.Gov/LIVE
OK – on to the news!
Supporting Local Restaurants and Small Businesses
Local restaurants and small businesses contribute to the vitality of our communities, but they've been hit hard during this pandemic. That's why Congress passed the American Rescue Plan and provided critical support to local businesses and restaurants, and the workers they support.
We know, as this pandemic has persisted, that many of our Main Street employers have faced continued challenges. That's why, earlier this month, I voted to support the Relief for Restaurants & Other Hard Hit Small Businesses Act. This legislation will help build on the success of key programs in the American Rescue Plan – including the Restaurant Revitalization Fund (RRF) – which has helped thousands of Washington businesses weather this storm and keep folks employed. Due to its popularity, the program quickly exhausted its funding before all eligible businesses could access relief. That's why, since its depletion, I've been advocating to replenish the RRF. I'm thrilled we could get this bill through the House.
In addition, this bill will establish a new program to support our hardest-hit small businesses – delivering critical assistance to small businesses that have suffered revenue losses of at least 40 percent during the pandemic.
I'll keep working to have the back of our small businesses and local employers – as well as their employees.
Going to Bat for Our Shipyard
Our public shipyards are at the core of our national defense strategy and are vital to local communities across the country. That's why I led Democrats and Republicans in launching the bipartisan Public Shipyard Caucus earlier this month in Congress. As the only congressional caucus focused exclusively on the nation's public shipyards, we're working together to secure strategic federal investments in public shipyards – including at Puget Sound Naval Shipyard in Bremerton. These efforts are important as we work to protect and grow shipyard jobs and, critically, to have the backs of the brave women and men who serve our country
With public shipyards undergoing a once-in-a-generation revitalization through the Shipyard Infrastructure Optimization Program, increased congressional cooperation and oversight is critical to ensuring the timely and cost-effective completion of this program. In fact, I'm excited that – last week – the Secretary of the Navy visited our region to see some of our extraordinary assets (you can read more about his visit here). I'm looking forward to working with my colleague to advance the priorities of our public shipyards and the folks who work there!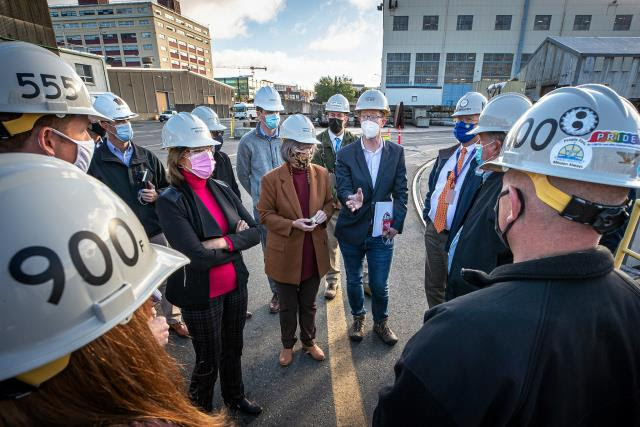 Fixing Congress
As frequent readers of this newsletter know, I'm committed to trying to make Congress work better for the American people. As part of that effort, I was appointed to serve as the Chair of the Select Committee on the Modernization of Congress, or what is often called the "Fix Congress Committee."
So far, Democrats and Republicans on the committee have passed over 140 government reforms focused on making Congress more effective, more responsive, and more transparent. Our recommendations have focused on reforming the budget and appropriations process to more effectively allocate federal funds and try to put an end to the frequent government shutdown and continuing resolutions, enhancing the capacity of Congress to ensure that quality staff can better serve folks back home and make the institution less reliant on lobbyists, enhancing civility and collaboration among members of Congress, bolstering the effectiveness of congressional support agencies, and promoting the collection and use of impartial data and analysis in the policymaking process – just to name a few areas!
The American people want less partisan bickering and more progress. This Committee is all about trying to find ways to make that happen so that ultimately, Congress works better for you – the American people.
I spoke to All Things Considered on KNKX Public Radio in Tacoma about the work of the Committee and how I hope it will make government work better for folks. Listen to our interview here:
Securing New Funding to Create Jobs on the Peninsula
As someone who grew up in Port Angeles and then worked professionally in economic development before serving in Congress, I know that our region has a lot of potential. That's why I've been advocating for the federal government to invest in Port Angeles and in the future of this region's economy.
I was thrilled to join U.S. Commerce Secretary Gina Raimondo this week in announcing a new $7.3 million grant to the Port of Port Angeles to support construction of the new Maritime Trades Industrial Park. This new funding, which I've been advocating for since 2020, will help provide much-needed resilient infrastructure at the Marine Trades Industrial Park. That will be important in supporting the maritime boat building and repair industry, strengthening and diversifying the region's economy, and serving as a catalyst for new jobs. It's exciting news!
Read more here.
Standing up for Students
As frequent readers of this newsletter will know, I've been working hard to expand financial aid to college students. Education is the door to economic opportunity – giving people a chance to succeed regardless of their circumstances. As the son of two public school teachers, I saw the transformational power of education firsthand. With that in mind, I am tremendously grateful for the work of the educational institutions across our state — including the outstanding private, nonprofit colleges — and for their commitment to both excellence and access. They're working to make sure more people have a shot. That's why, in recent years, I've introduced legislation to expand the Pell Grant and, as a member of the Appropriations Committee, I've been a leading advocate for financial aid funding.
I was honored recently to receive the 2022 Stanley O. McNaughton Leadership Award from the Board of Directors of the Independent Colleges of Washington for my work to expand financial aid for students and help prepare the next generation of students to succeed in the 21st century economy. I'm grateful for their partnership, and I'll keep working to stand up for students and their families!
Working for You
Having the Backs of our First Responders
Great to meet with Washington Fire Chiefs to talk about how we can continue to work together to ensure the brave men and women who serve on our frontlines have the tools they need to keep families and communities safe! THANK YOU, to all firefighters and fire district leaders, for all that you do.
Supporting our Libraries
I appreciated the opportunity to meet with new Kitsap Regional Library Director Jason Driver to talk about how we can work together to support our public libraries!
Making Sure We Take Care of One Another
It was great to meet with some of the incredible Washington organizations – including Northwest Harvest, Food Lifeline, Emergency Food Network, Washington State Anti-Hunger & Nutrition Coalition – who are working to ensure that families and children across our region are healthy and well-fed. I'm committed to ensuring these organizations and their partners have the federal resources they need to continue supporting Washington families - now and in the future!
OK – that's it for now folks. I hope to have you join our telephone town hall on Wednesday!
As always, I'm honored to represent you.
Sincerely,
Derek