05.16.22
Making Progress on Cutting Costs
Hello Folks –
In this job, it's important for me to hear from as many constituents as possible across our region about the issues that matter to them. That's why I was excited to host a town hall at Tacoma Community College recently to take questions from folks across our region about all sorts of issues – from lowering the costs of health care, to holding oil companies accountable for price gouging at the pump and creating an energy-independent future, to having the backs of our veterans. I also gave an update on my ongoing work to create jobs and cut costs for working families, and new federal investments I've secured to help communities across our region to grow jobs and expand affordable housing. Thanks to who everyone who came out – and stay tuned for news about upcoming town halls in other parts of our region!
Let's dive into what's been on the agenda in recent days!
Lowering Costs for Families & Making More Things in America
Now that the economy is beginning to show signs of recovery, we're facing real concerns about rising inflation. It's a problem for all of our families if the costs of the things we depend upon continue to rise to the point where we cannot afford them. I know folks are sitting at their kitchen tables trying to figure out how to make ends meet. It's important to me that we give people who are feeling the squeeze of rising prices a break.
The bipartisan infrastructure law that passed at the end of last year makes investments in America's ports and in freight mobility. Those investments should play a valuable role in shoring up our supply chains and reducing prices over time. That's a good start, but there's more to do.
The House recently passed the America COMPETES Act of 2022 which includes provisions to improve our nation's supply chains, prevent shortages of critical goods, and to ensure that more of these goods are made here in America. The Senate has also passed a version of that legislation, and last week, negotiations got underway to get a final bill to the finish line.
Let's look at just one area where that legislation could make a huge difference. The bill includes provisions to encourage semiconductor/chip fabrication here in America. Why does that matter? Well, a lot of the products that we purchase – including automobiles, computers, and appliances – use chips. Unfortunately, though our nation invented the microchip, the United States now produces just 10 percent of them. Consequently, when there are global shortages and – as we've seen from the pandemic – supply chain disruptions, we are less able to manufacture things like automobiles. With new car production down (and new car inventory down 58%), the demand for used cars has soared, and that has led to prices going up for used cars by 45% in comparison to last year. That's one of the big drivers of inflation, and that's something that can be fixed if we pass the America COMPETES Act and produce more chips in the United States.
In addition, later this week, the House will vote on the Consumer Fuel Price Gouging Prevention Act. As families are feeling pinched by rising gas prices, the major oil companies have posted record profits. And even when the price per barrel has gone down, prices at the pump have stayed high.
This bill would enable the federal government to prevent increases in gasoline and home-energy fuel prices in an excessive or exploitative manner. That represents an important step forward for protecting consumers and lowering the cost of gas for Americans at the pump.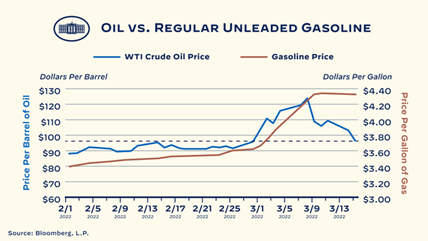 Finally, while we are dealing with this inflation, I think it's important for the federal government to help families that are struggling with rising prices. People deserve a break. That's why I supported legislation that has already passed the House to reduce child care costs, costs of health care and prescription drugs, and costs of housing, among other things. And under this bill, no one making under $400,000 annually would see an increase in their taxes, and 39 million American families would actually see a tax cut. I'm pushing to see this legislation make it across the finish line to help the folks I represent.
I know folks are hurting, so please know that I am committed to doing all I can to help working families through this tough time.
Combatting the Mental Health Crisis
In May, we take time to recognize National Mental Health Awareness Month. It's an issue that comes up in conversations I have across our district time and time again. Over the past few years, the combination of loss, isolation, and stress related to both the pandemic and the economic challenges caused by it put a bright light on the need for better mental health care in our country. But we also know that folks in America have faced mental health challenges long before any of us had even heard of COVID-19.
The failure to address these challenges is evident in so many ways. It's evident in rising rates of death by suicide. It's evident in the fact that – in most of the counties in our region – the largest provider of mental health and substance abuse services is the county jail. It's evident in the number of educators who are seeing the mental strain facing their students and among their peers. It's evident in families that are seeing significant challenges. Simply put, we need to do better.
With that in mind, over the years, I've been an advocate for having the federal government step up to meet this challenge. Sometimes that's meant advocating for funding, other times it's meant supporting legislation.
For example, as a member of the House Appropriations Committee, I have been a strong supporter of Substance Abuse and Mental Health Services Administration (SAMHSA) funding. This has been a priority for me because it's important that we're providing adequate funding for mental health and substance treatment programs. I've also advocated for new programs through SAMHSA so we can meet specific needs. Along those lines, I was proud to support a number of bills targeting specific mental health priorities that have passed the House, including:
The Family Support Services for Addiction Act to direct SAMHSA to award grants to nonprofits to develop or expand services for people with substance use disorders and their families.
The Improving Mental Health Access from the Emergency Department Act to provide new resources to emergency departments to increase access to follow-up psychiatric services for people experiencing acute mental health episodes.
The Mental Health Justice Act of 2021 to establish a new grant program to fund mental health first responder units, making it easier for states to implement programs where qualified providers can respond to individuals experiencing a mental health crisis so they don't end up in our criminal justice system.
I'm also proud to share that this July, a nationwide mental health hotline number, 988, will go live. I supported the bill that created this hotline in 2020, and I recently co-sponsored the 9-8-8 Implementation Act, which would enable communities to effectively respond to 988 calls with a continuum of behavioral health crisis services to stabilize patients in crisis and direct them to the most appropriate treatment options. Specifically, the bill would direct the Department of Health and Human Services (HHS) to ensure that the national definition of behavioral health crisis care includes 24/7 crisis hotlines and call centers, mobile crisis services, and behavioral health urgent care facilities. Additionally, the bill would provide coverage of these services for patients no matter where they get their health insurance and create a grant program to fund the development of these crisis services in communities.
I've also spoken with a lot of folks who are worried about their kids' mental health. I share these concerns. That's why I'm proud to cosponsor several bills that will make a real difference in helping our kids. The Helping Kids Cope Act, for example, provides funding to children's hospitals to expand and improve mental health services for kids. In addition, the Strengthen Kids' Mental Health Now Act focuses on establishing a full continuum of mental health services for kids and reducing the amount of time kids spend waiting for care the care they need.
Additionally, I think we've got to do more to strengthen the mental health care workforce. That's why I have co-sponsored legislation to forgive student loan debt acquired while receiving medical and professional training for health care workers serving on the front lines. In my view, providing that assistance to frontline health workers – including those focused on mental health – makes a lot of sense.
I will continue to push for improved resources to ensure that those with mental health challenges are getting the help they need – and that we have the backs of the dedicated workers who take on this important work.
Supporting Our First Responders
We know that in order to help keep our communities safe, firefighters are routinely exposed to all sorts of work-related hazards that put their health at risk – including smoke, heat, stress, and toxic substances. Therefore, most states provide firefighters who seek workers' compensation benefits for work-related illness and injury with the presumption that certain diseases are work-related.
Unfortunately, the roughly 15,000 firefighters employed by the federal government, including those here in Washington, are covered by a system that is poorly designed to provide benefits for occupational diseases caused by exposure to toxic substances. That leaves federal firefighters and their families without the workers' compensations protections that they deserve.
That's why, last week, I proudly voted in favor of the Federal Firefighters Fairness Act of 2022, which would make it easier for federal firefighters to secure workers' compensations benefits under the Federal Employees' Compensation Act by, among other things, providing a science-based presumption that certain illnesses should be deemed work-related.
If you serve our communities, the federal government should have your back. I'll keep working to make sure that our federal firefighters get the benefits that they've earned and deserve.
Working For You
Protecting Women's Reproductive Health
The Supreme Court's potential decision to overturn Roe v. Wade represents one of the most significant attacks on constitutional rights in modern history. I support reproductive freedom and I support the ability of people to make decisions about their own bodies. I was proud to stand with hundreds of folks in Kitsap County this weekend who believe in that, too. I'll keep working to protect every person's right to choose.
Supporting Important Community Organizations
When so many families in our region are concerned about having stable housing, Mi Centro has been on the front lines, providing rental assistance over the course of the COVID pandemic. The organization does tremendous work for Latino and Indigenous native families across our region—providing critical social services and educational programming. It was great to check-in with the amazing Bernal Baca and the rest of the Mi Centro team!
Having the Backs of Our Small Businesses
Small businesses are the backbone of our economy - creating over 60% of new jobs in the private sector. In fact, small businesses are leading our economic recovery from this pandemic. It was great to celebrate Small Business Week with the Gig Harbor Downtown Waterfront Alliance and check-in with a number of local employers to hear how things are going and how the federal government can be a better partner. Count me on the home team!
OK – that's it for now folks. As always, I'm honored to represent you.
Sincerely,
Derek
---
---
Next Article
Previous Article