December 12, 2022
Updates on Honoring Promises to Native Nations, Defending Marriage Equality, and Supporting Our Servicemembers
Hello Folks –
December is in full swing and that means it's my favorite time of the year! From festive lights to holiday songs to time with friends and family, I'm not sure it gets much better than this. While everyone (including me) is celebrating their favorite things this time of the year, you can find me still fighting to make Congress work better for people in our region. From committee meetings in the Capitol to time with constituents in our communities, for me, the holidays are as busy a time as ever.
OK – on to the news!
Honoring Promises to Native Nations
As the Representative for our district, I have the honor to represent 12 tribes from across our region. For too long, our Native communities have lacked adequate housing, health facilities, schools, justice centers, roads, telecommunications, water, and other basics. And, sadly, far too often, the federal government has chosen to look the other way. Congress has failed its moral and legal obligation to fulfill the promises made to Indian Country.
That's why, just last week, I was proud to introduce the Honoring Promises to Native Nations Act to reverse the decades-long pattern of shortcomings that Native communities have experienced. From a systemic lack of funding to failing programs to support Indian Country, our government has repeatedly failed to honor the trust and treaty obligations to Tribal Nations that were established so many years ago.
The Honoring Promises to Native Nations Act will strengthen programs for Native communities, including committing mandatory, full, and inflation-adjusted funding whenever possible. My bill aims to empower Native communities in critical areas such as criminal justice and public safety, health care, education, housing, and economic development.
I hope that Congress will move swiftly to enact this legislation. It's time for our federal government to step up and do what's right.
Speaking of stepping up, I'm thrilled to share that the Interior Department recently announced that it will award $25 million to the Quinault Indian Nation in support of their relocation efforts. These funds will allow the Quinault to relocate critical community facilities in the village of Taholah to higher ground, protecting folks from recurring flood damage to critical community facilities and housing.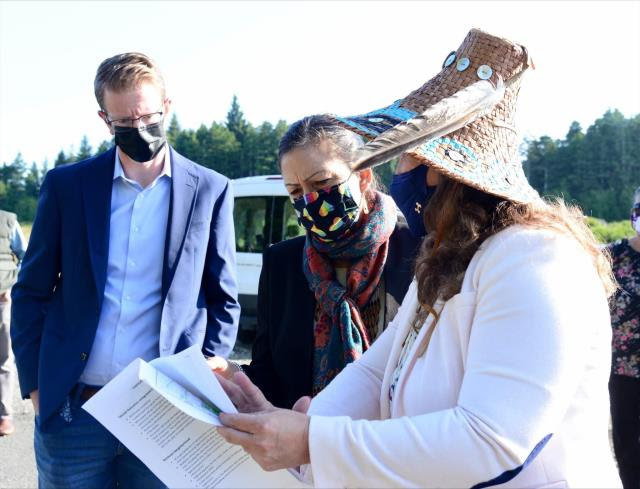 From the threat of tsunamis to increased flooding to coastal erosion, communities along Washington State's 3,000 miles of marine coastline face increased threats to the places they call home. That's why commitments like this are a big deal. Tribes across our district are seeing their ancestral homelands threatened by climate change and rising sea levels. The federal government should help move people to higher ground and out of harm's way. This announcement shows a real commitment to ensuring that folks on the front lines of the climate crisis are getting the federal support they need
For years, I've been fighting to help the Quinault and other coastal tribes get the support they need to protect their communities, and I intend to keep up that fight.
Defending Marriage Equality
The federal government has a responsibility to protect people's freedoms – that includes protecting marriages under federal law. Earlier this year, the Supreme Court's Dobbs decision not only threatened reproductive freedom, but also the freedom of loving same-sex and interracial couples to get married. In one opinion, Justice Thomas urged the courts to reconsider these long-standing protections.
That's why I voted last week to support the Respect for Marriage Act – a bill I co-sponsored to permanently enshrine marriage equality for same-sex and interracial couples in federal law.
The Respect for Marriage Act ensures that if someone is legally married in one state, their marriage will be recognized in another state. I'm proud to finally send this bill to the President's desk to be signed into law. While there is more work to be done, this week's progress is a strong step in the fight for freedom and equality.
Supporting Our Servicemembers
I have always believed that if you serve this country, then we should have your back. Our region is home to thousands of active-duty members of the U.S. military, tens of thousands of veterans, as well as extraordinary civilian defense workers who work every day at places like Puget Sound Naval Shipyard. We should make sure they get the compensation, benefits, training, and equipment they need.
That's why I recently supported the National Defense Authorization Act for Fiscal Year 2023 (NDAA), which I am proud to say passed the House of Representatives with strong support from Democrats and Republicans. The NDAA includes wins for the regional economy, Washington state's environment, and our region's talented civilian workforce, who are doing vitally important work to keep our country safe. This bill will mean increased support for service members and federal workers, as well as ensured fairness for shipyard workers, through provisions including:
A 4.6% pay raise for service members, additional funding for the Basic Allowance for Housing, and an increase in the number of households who are eligible for the Basic Needs Allowance – a monthly allowance for active-duty service members with dependents whose income falls below 150% of the federal poverty line;
Increased wages at Puget Sound Naval Shipyard by directing the Government Accountability Office to investigate pay gaps between federal trades workers and their commercial industry counterparts;
Improved access to childcare for military families, including service members stationed at Naval Base Kitsap and Joint Base Lewis McChord;
A prohibition on additional medical staff reductions at military treatment facilities, including Naval Hospital Bremerton;
Improved participation in, and access to, the Public Transportation Incentive Program – a transportation benefit program established to encourage employee use of mass transportation to reduce air pollution and traffic congestion; and
My legislation, the PUGET SOS Act, to enhance the federal government's role and investment in Puget Sound.
I am proud to have supported this legislation, and I'll keep up the fight to get our service members and their families the care and support they deserve.
Working for You
Supporting Higher Education
Recently, I welcomed the Coug-in-Chief to my office – WSU Pullman President Kirk Schulz. We discussed the work happening at Washington State University, both on campus and throughout the state. Thank you, President Schulz, for coming to the other Washington to discuss our continued partnership!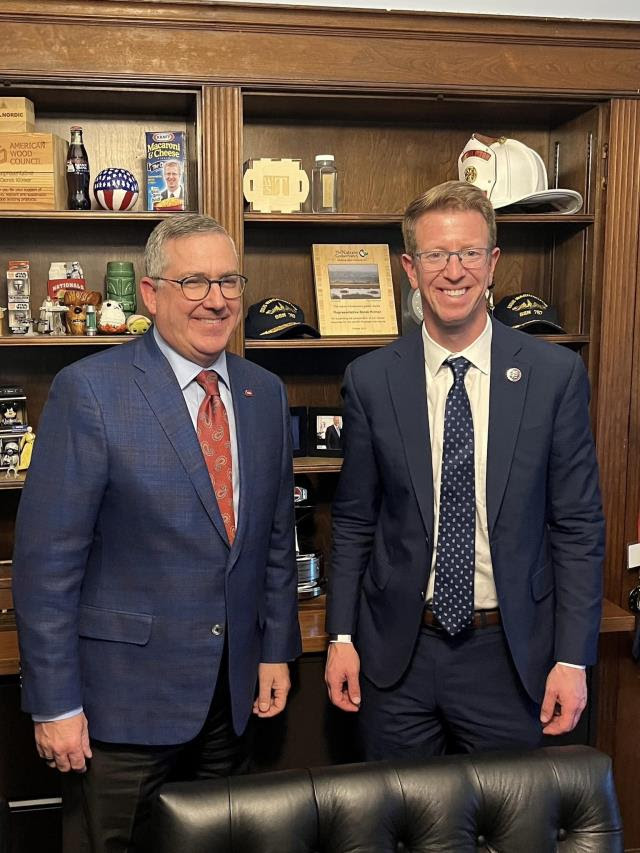 Restoring Our Waters
Thank you to the U.S. Army Corps of Engineers, Seattle District for visiting. Excited to celebrate the passage of the Water Resources Development Act (WRDA) last week, and to see the important water resources, flood control, and ecosystem restoration work they do continue in our region.
Creating Jobs at Home
I recently got the chance to talk to the Association of Washington Business (AWB) about recent progress made on infrastructure, semiconductor manufacturing, and efforts to combat inflation and climate change. We also discussed the work left for Congress before the year ends. I'm grateful for the AWB's work to create and maintain good jobs in our region!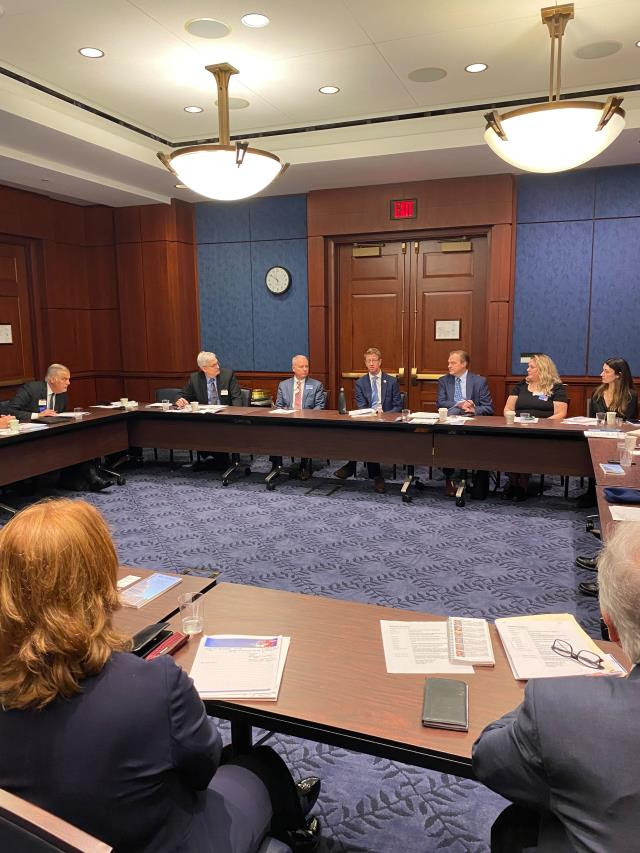 OK – that's it for now, folks. As always, I'm honored to represent you.
Sincerely,

Derek