December 26, 2022
Investing in Our Communities + A BIG Win for Puget Sound
Hello Folks –
I hope everyone had a wonderful holiday weekend! It was great to spend time with my family, share some presents and eggnog, and binge-watch Hallmark holiday movies. As we move into the New Year, I hope folks have a happy and healthy 2023, filled with prosperity and new opportunities! I'm also looking forward to another year as your representative. I'm honored to work for you!
OK – on to the news.
Puget SOS Act
As folks may recall, the representative from our neighboring district (Marilyn Strickland) and I introduced the PUGET SOS Act to enhance the federal government's role in the restoration and recovery of Puget Sound. The Sound is our region's most iconic body of water, where generations of friends and neighbors have built their lives and made their livelihoods. But if future generations are going to enjoy those same opportunities, we must act.
I'm excited to report that this bill was recently signed into law by President Biden (as part of a larger piece of legislation). I've been fighting since day one to make the federal government a better partner in Puget Sound recovery. Together, with Rep. Strickland, the Puget Sound Recovery Caucus, and our partners throughout the region, we got this done to restore salmon and orca populations, ensure future generations can dig for clams, uphold tribal treaty rights, and so much more.
The bill will establish a Puget Sound Recovery National Program Office at the Environmental Protection Agency to coordinate protection and restoration efforts of the nation's largest estuary by volume.
I'm also excited to report that the government spending bill that passed the House on Friday includes a record $54 million for cleaning up Puget Sound. This is a huge step in the right direction, and I am proud to have helped lead the charge on this effort.
Securing Investments for Our Region
As a member of the House Appropriations Committee, I have the opportunity to play a meaningful role in helping to shape the investments our government makes. It's an opportunity to support investments for our region that will create jobs and support the communities I serve. Just last week, Congress passed a new spending package for 2023. I supported this bill because it will provide a much-needed pay increase for our service members and our civilian Defense workers, because it strengthens veterans' health care, and because it invests in affordable housing and keeping our communities and our environment healthy and safe. I was also able to secure some important wins for our region in the final government spending package, with more than $35 million in federal funding allocated to all 15 of the local proposals submitted by my office earlier this year.
I know that this will go a long way in meeting the long-overdue needs of our region. This investment by the federal government will help folks create jobs with better pay, make folks safer, strengthen our communities, and fight back against climate change.
Here's an overview of some of the projects that will make a real difference:
Supporting New Affordable Housing and Community Facilities in Jefferson County
Across our region, we need more affordable housing. But that's only going to get built if we have the infrastructure needed to support it. That's why I'm proud that the government spending package just passed by Congress included funding for two important infrastructure projects in Jefferson County that can help us provide the services needed to build new housing and service residents at essential community locations.
Congress advanced new funding I advocated for to help build a new sewer pump station to service the Evans Vista neighborhood in Port Townsend. That investment will support the community-based development of 100-150 mixed-income affordable and workforce housing units. In addition, I secured funding for a sewer project in Port Hadlock – enabling connections to the Chimacum Primary School and the Public Library and enabling the development of new affordable, multi-family housing, senior housing, and small businesses.
It's good progress that can help our region build much-needed housing in Jefferson County!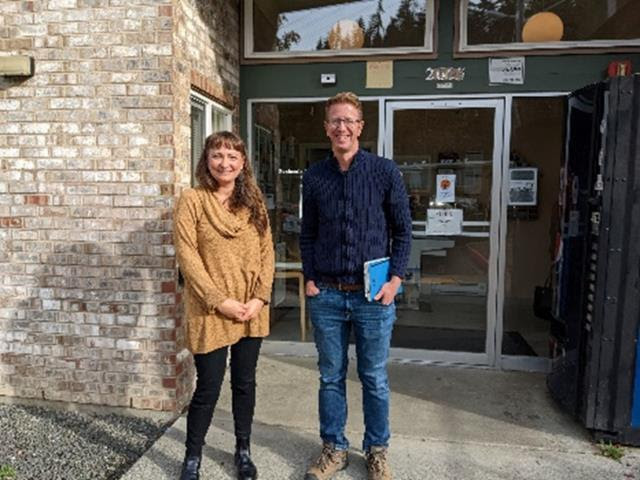 Assisting Folks in Need in the South Sound
There are far too many folks in our region who are experiencing homelessness. Not only do we need to increase housing affordability and accessibility, but we also need to help folks get back on their feet and make ends meet. That means we've got to ensure that the shelter and services people need are readily available. That's why I've been pushing to get the City of Tacoma and the Tacoma Rescue Mission more funding to help them expand. I'm thrilled that the federal government advanced new funding I advocated for to help expand the Tacoma Rescue Mission – which will increase permanent shelter capacity, inclement weather shelter capacity, addiction recovery services, and day-use space to provide critical wellness services such as workforce development, mental health services, and substance use counseling.
Modernizing the Port of Grays Harbor & Supporting Local Fishermen
Our coastal fisheries and seafood industry are an essential part of our region's economy. In fact, Westport Marina in Grays Harbor is the state's largest commercial seafood landing port – and is considered a port of "national significance" due to the volume and value of the catch that comes through it. That means it's a critical economic hub for tribal, commercial, charter, and recreational fishing on our coast – supporting nearly 2,300 jobs in its uplands.
The new spending bill includes funding to help modernize the Westport Marina and support jobs and local economic opportunity. The funding will support the Marina's effort to modernize and reconfigure its floating dock so that it can adequately support the needs of the region's robust fishing fleet now - and serve the needs of our region long into the future.
Economic Growth in Mason and Kitsap Counties
As we work to recover from this pandemic, we've got to ensure that communities have the resources they need to attract new investment, create new jobs, and build local economies. That's why I was thrilled to secure funding for projects to help make that happen.
In Mason County, a lack of electrical capacity and reliability issues continue to be a primary inhibitor to creating economic growth and attracting new businesses to the region. In fact, in 2021, the Economic Development Council of Mason County had to turn away multiple recruitment opportunities due to lack of electrical infrastructure capacity—resulting in an estimated loss of hundreds of potential new jobs. That's why I'm thrilled that Congress advanced new federal funding that I advocated for to help Mason County PUD 3 build out the essential electrical infrastructure they need to help attract new businesses and investment and increase regional grid resilience for existing customers. It's great news!
In Kitsap County, downtown Port Orchard's Bay Street Corridor (Port Orchard's "main street") faces persistent flooding. So, as part of the city's master plan, they're working to redevelop the west end of downtown to include a Community Center, a new Kitsap Bank facility, Kitsap Regional Library, and Mixed-Use Housing projects. As part of that redesign, they're hoping to build a more resilient Bay Street that can better provide safe accommodation and efficiency in the downtown area (for all modes of transportation!). I'm thrilled that the bill that passed includes funding to advance the reconstruction of this area at a raised elevation that will account for persistent flooding and rising sea levels. It's an important piece of the effort to revitalize downtown Port Orchard – and will help catalyze the local economy.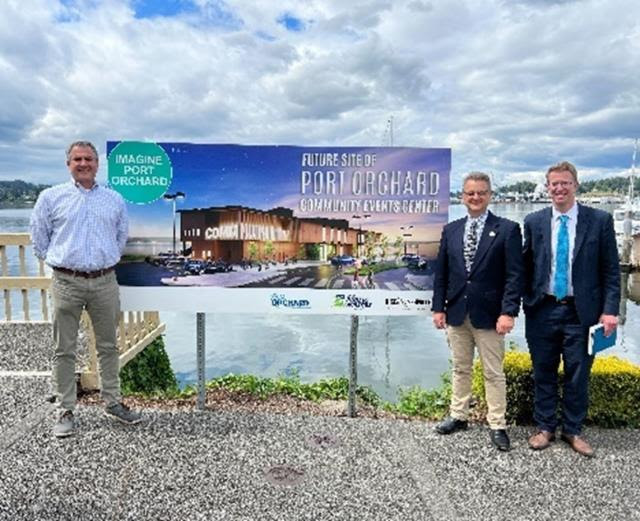 Improving Health Care and Increasing Affordable Housing for Tribal Communities
Across our region, we need more affordable housing – including for Native communities. That's why I'm thrilled that Congress has advanced new federal funding to build new affordable housing on the Suquamish Tribe's Port Madison Indian Reservation and on the Skokomish Indian Tribe's Reservation. These projects will not only help ensure more Tribal members can return to their ancestral homelands, but also help ease housing challenges for non-Tribal citizens that live nearby these reservations. These investments are win-win for our region.
In addition, we know that Native communities in our region and across our country have consistently struggled to deliver essential health services and programs to support reservation residents. The federal government has an obligation to fulfill its trust and treaty responsibilities and to make sure that people have the resources they need to live healthy lives.
That's why I'm proud that Congress passed funding that I advocated for to help two Native American Tribes on the North Olympic Peninsula improve healthcare options for community members and ultimately strengthen health outcomes. The funding for the Makah Tribe will help the Tribe expand and relocate the critical medical services of the Sophie Trettevick Indian Health Center out of the Tsunami Inundation Zone and meet the needs of its growing population. And the funding for the Lower Elwha Klallam Tribe will help the Tribe advance the planning and development phases of the Lower Elwha Klallam Health and Wellness Complex, which will provide access to a wide range of high-quality, culturally sensitive services for Tribal members, and additional health and social services to the broader community.
Supporting Families and Children in Grays Harbor
It's important to give kids a good start in school – and life. That's why I'm thrilled that Congress has advanced new federal funding I advocated for to assist critical programming that helps rural communities make school readiness programs and parent education opportunities accessible for all. The funding will support Save the Children's effort to accelerate academic achievement among the most marginalized children in rural Washington communities through early childhood home visiting programs, parent engagement workshops, home library builds to help build a culture of literacy, and mobile outreach providing nutritious meals to families in need. It's a big deal for families across our region!
An Update to Community Project Funding
With the passage of this year's spending bill, we will start gearing up for Community Project Funding requests for next year. I look forward to reviewing proposals from communities across our region.
To evaluate the requests, I'll once again convene an independent advisory panel of local stakeholders to help inform the selection process and evaluate the degree to which the requests have strong community support, capture the geographic and demographic makeup of the district, and achieve at least one of following goals:
Create sustained job growth and/or economic opportunity
Address imminent threats to public health, safety, or the environment
Promote equity and inclusion for underserved populations
Fulfill unmet federal obligations, including treaty and trust responsibilities to Native American tribes
For more information on last year's process in preparation for next year, you can find my previous FY2023 Community Project Funding request resource guide available here.
Working for You
Fighting to End Hunger
I'm working to end hunger in our communities, but I can't do that without help from people like Michelle Douglas and her terrific team at Emergency Food Network. I met with the Emergency Food Network team – people connecting people to consistent, nutritious meals across Pierce County.
Recognizing Our Scouts
I had a great time earlier this month with Cub Scout Pack 202 to discuss my work in our community and how they can help build a better world. Our youth's tenacity and resiliency are an inspiration. And, as a former Scout, I'm grateful for their dedication to our community and to good citizenship!
Taking Action Against Climate Change
Thanks to the folks from the Citizens' Climate Lobby Bainbridge Island Chapter for meeting with me earlier this month. We discussed how provisions in the Inflation Reduction Act and the CHIPS and Science Act, both of which are now law, will help to safeguard Washington's environment for years to come.
OK – that's it for now, folks. Here's to a Happy New Year! 
As always, I'm honored to represent you.
Sincerely,

Derek